The Department for Levelling Up, Housing and Communities has announced that it is planning to accelerate the speed of the planning process for major infrastructure projects that can deliver tangible benefits to communities.
Projects including offshore wind farms, transport links, waste facilities and nuclear power stations are all expected to be part of the plans, which will aim to slash the time that it takes for projects to be given the go-ahead. This will be done by streamlining the current system, and setting up a fast-track system for those projects that will deliver environmental and community benefits.
The driving force behind these plans is to remove the slow and 'burdensome' planning process surrounding the vital infrastructure projects that are required to help grow the economy, create new jobs, and promote new opportunities. This will, in turn, create a new, resilient, and dynamic approvals system to assist the government as it continues to try and rebuild the economy after the Covid-19 pandemic.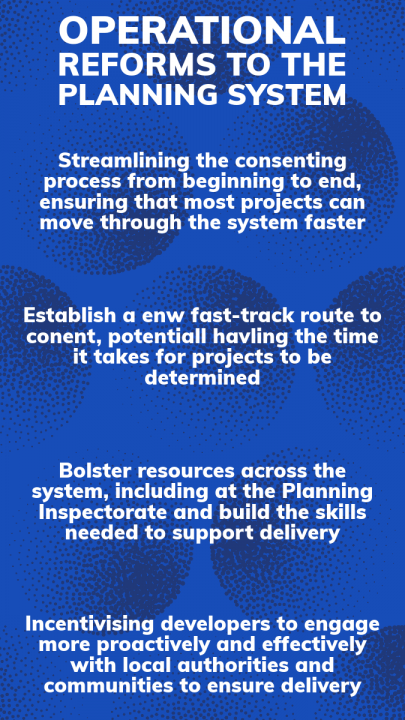 Prime Minister Rishi Sunak said:
"Strong communities need to be supported by vital infrastructure; the transport links, power plants and buildings that underpin our everyday lives.
"Significant infrastructure projects don't just ensure that people can get to work easily, do their recycling, And power their homes. They also create jobs, grow our economy, and help us become fit for the future.
"It is right that we make it as easy as possible for these important projects to be approved and delivered across the country."
According to the government, infrastructure projects that are 'nationally significant' are ones that relate to energy, transport, water, or waste. This is due to their importance in not only delivering important infrastructure, but also in the creation of jobs and new homes.
Michael Gove, Housing Secretary, added:
"It is vital that we can delvier the major infrastructure we need to regenerate our communities and level up.
"But local authorities and planners face barriers and red tape which have resulted in delayed impacting on homeowners and housebuilders alike.
"That's why we are bringing forward changes to accelerate the infrastructure we need – this builds on the package of measures I announced yesterday to unblock the planning system and build a better Britain."
Minister from the environment, energy, levelling up, and transport departments will come together to lead the progress on this project, whilst also troubleshooting any potential stumbling blocks to progress and developing practical solutions that will enable the acceleration of delivery.
Also commenting was Lee Rowley MP, Local Government Minister, who said:
"Too many vital projects are being held up by needless bureaucracy and red tape – we must speed up the planning process so we can get building and deliver.
"These changes will make sure we have a planning system that is fit for the future and communities are left at the heart of decision making.
"We are getting on with the job of delivering the vital infrastructure that our communities need."
Image credit: iStock