Government Legal Department has announced that it has appointed a new Director General, with the role seeing the new appointee taking control of the government's principle legal advisors.
The Government Legal Department is responsible for helping the government to deliver on its key priorities by providing it with legal services. This sees it taking a role in the law that goes into every Act and legal case that the government is involved in.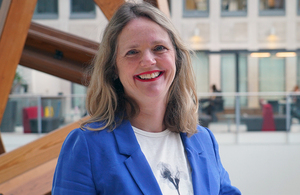 Caroline Croft has been promoted to the role, stepping up from her previous position as Legal Director at the Department of Health and Social Care. She will move into the role in June, working closely with two fellow Directors General and Susanna McGibbon, Treasury Solicitor.
With 30 years' experience as a government lawyer, Caroline bring a wealth of experience to the role. She was called to the Bar in 1991 and joined the civil service the following year, beginning her career at the Office of the Parliamentary Counsel. Since then, she has proceeded to hold senior posts in the civil service, with a variety of government departments calling on her services. These include the Department for Business, Energy and Industrial Strategy, the Department of Energy and Climate Change, and the Cabinet Office.
Caroline has held her current role at the Department for Health and Social Care since November 2020.
Speaking about her new appointment, Caroline said:
"I am absolutely delighted to have been appointed as Director General. I'm proud to have been a government lawyer for almost my whole career, and I love the intellectual challenge of our work, the positivity of our inclusive, collaborative culture and the excitement of working at the heart of UK politics.
"I am really excited about my new role and looking forward to helping shape the next phase in the life of GLD"
Once she moves into her new role, Caroline will be responsible for teams of lawyers that are working on some of the most important legal issues in government. Her wide range of responsibility will cover areas such as the GLD Employment Group, as well as legal advisors at a number of government departments. These include:
The Department for Education

The Equalities Hub

The Department for Transport

The Department for Health and Social Care

The Department for Work and Pensions

The Department for Levelling Up, Housing and Communities
The current Director General, Jessica de Mounteney, will return to the role that she held previously as Legal Director at the Office of the Parliamentary Counsel.