Green Commute Initiative (GCI) has been awarded ISO 27001 accreditation, an international standard which determines that an organisation can effectively manage its IT security.
To be accredited, an organisation must be able to demonstrate robust security management when processing and storing user's information, both online and offline, as well as the ability to securely share information with vigorous security policies and access management.

Recent high profile security breaches have made public trust wain in terms of storing personal data, however with accreditation such as ISO 27001, organisations are able to prove that they can be trusted to keep data secure.
In 2019, GCI made sure that they met GDPR compliance requirements which subsequently lead them to pursue ISO 27001 accreditation; there was an increasing number of customers requesting detailed information regarding its security practises.. In fact, some of GCI's customers demanded ISO 27001 certification as a prerequisite in their contracts.
Managing Director of GCI, Rob Howes, said:
"Without doubt, having ISO 27001 will help GCI secure more cycle to work orders as it removes one of the barriers to sale.
"During four short years, GCI has grown to become one of the most respected cycle to work providers, and by the end of 2020, we anticipate that GCI will be the UK's second biggest provider.
"Now, we can claim to be the first cycle to work provider to have ISO 27001 accreditation – yet another USP to set up apart from the rest."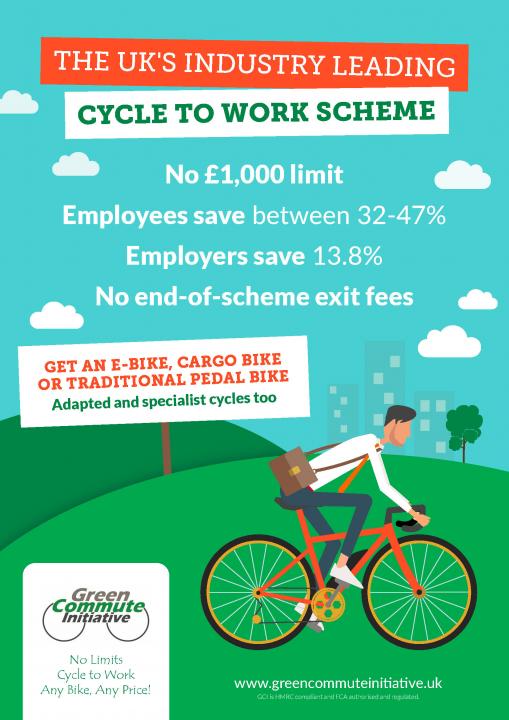 Green Commute Initiative is a not-for-profit social enterprise that is dedicated to encouraging  commuters to use their car less and use their bicycle more. There are two clear benefits to this, as GCI sees it, the benefit of getting people living a more active lifestyle, something that is seen as a must for a healthy life, and also reducing the carbon impact that commuters have every day across the country.
GCI works with councils,health trusts andpolice forces and has a framework agreement with Somerset Council which has subsequently been used by other public bodies enabling them to follow best practice and avoid the overhead of the tender process.
GCI was the first cycle to work scheme provider to have no £1,000 limit and no end of scheme fees meaning that employees make the maximum possible savings.  GCI also charges the bike shops the lowest commission rates in the industry meaning the bike shops get a fairer deal and retain more of the profit within their business.
FIND OUT MORE ABOUT GCI: www.greencommuteinitiative.uk