The Department for Business and Trade has announced that 20 projects at the cutting edge of net zero technology have been awarded funding to help reinforce the UK's position as a world leader in zero emissions vehicle technology.
Projects including hydrogen-powered offroad vehicles are benefitting from £89 million worth of government investment. Awarded through the Advanced Propulsion Centre UK, the funding will include four collaborative research and development projects, as well as five projects that will assess whether oof not businesses in the automotive sector are ready for growth.
As the government and the automotive industry look to support the nation's ambitions of delivering an end-to-end supply chain for net zero vehicles, both parties will provide the funding. The government will invest £45.2 million into the funding pot, whilst the automotive industry will contribute £42.7 million.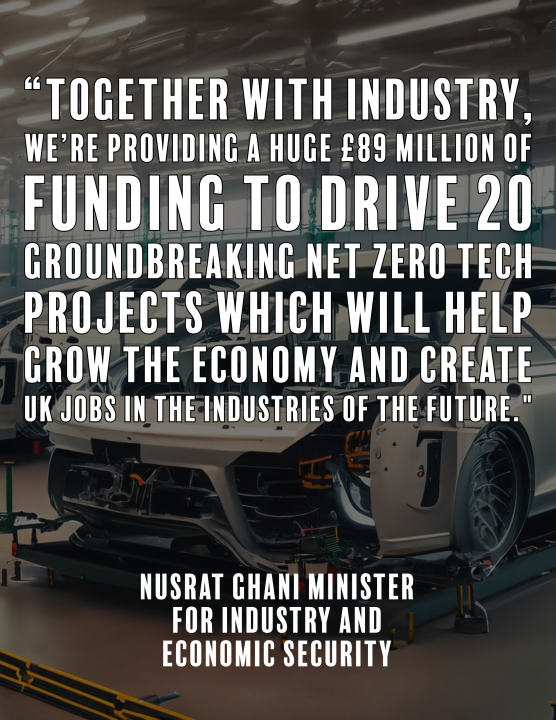 Nusrat Ghani, Minister for Industry and Economic Security, said:
"Together with industry, we're providing a huge £89 million of funding to drive 20 groundbreaking net zero tech projects which will help grow the economy and create UK jobs in the industries of the future.
"From net zero tractors to cutting-edge battery projects, we're taking decisive action to back the UK's innovators and ensure we remain at the forefront of zero emission vehicle technology."
Alongside progression in net zero technologies, the projects that are awarded funding will also help to either create or safeguard over 4,700 jobs in total, whilst also saving almost £65 million tonnes of CO2 over the next decade.
As part of scale-up projects, place-based projects have also been awarded £11.3 million thanks to the second instalment of the Scale-up Readiness Validation (SuRV) competition, as well as the fourth round of the Automotive Transformation Fund (ATF). Projects awarded this funding will assess how feasible it is for UK automotive businesses to grow and expand, focusing on the supply chain, including plans to build a lithium scale-up plant in Teesside, and accelerating the scale-up of solid-state battery technology.
This announcement accompanies funding that is already being committed to developing a high-value end-to-end electrified automotive supply chain in the United Kingdom, with this involving the unlocking of private investment for gigafactories, battery material supply chains, motors, power electronics, and fuel cell systems.
Image credit: iStock