A survey from the District Councils Network has outlined how district councils around the country are being forced to make difficult decisions thanks to inflation and rising service demand.
Due to these struggles, local services that are relied upon by vulnerable people are set to be cut in order to cope with the increasing financial crisis. Services that support culture, community support, parks and green spaces, and leisure are at the greatest risk of being cut.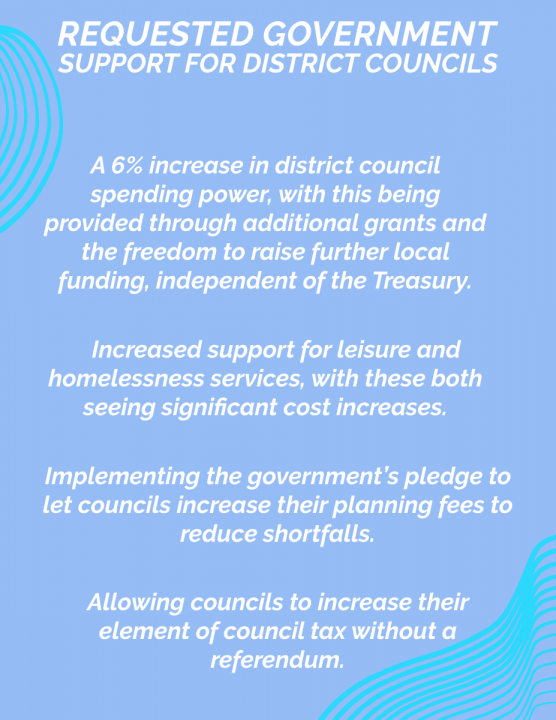 With these issues in mind, the District Councils Network is calling upon government to provide the following:
A 6% increase in district council spending power, with this being provided through additional grants. This would be complimented by the freedom to raise further local funding, independent of the Treasury.

Increased support for leisure and homelessness services, with these both seeing significant cost increases.

Implementing the government's pledge to let councils increase their planning fees to reduce shortfalls.

Allowing councils to increase their element of council tax without a referendum.
District Councils Network's Finance Spokesperson, Cllr Elizabeth Dennis, said:
"District council services are the most visible to local communities and provide a vital lifeline to many of our residents. However, unless we receive a realistic financial settlement and the financial freedoms to ensure we can raise extra money to undertake our work, councils are left only with an impossible choice of which services to cut back.
"We already anticipate councils will make savings amounting to 9% of their budgets, where possible through efficiencies, but increasingly savings are only achievable through workforce cuts and service reductions.
"Any further scaling back of district council services would be disastrous. The most vulnerable people will be hit hardest – for instance, those who benefit from our advice services and financial help to prevent them from becoming homeless. It would also hit the NHS which benefits from our work to keep people out of hospital and in good health through rehabilitation services at leisure centres and home adaptations for people who are at risk of suffering falls.
"Far from levelling up taking place, without additional support it is likely our places will look poorer, our people will have fewer opportunities, our environments will be less pleasant, and the overall public realm will be in decline, unless we receive urgent help from the government.
"We know public finances are tight, but it is essential that our spending power rises by at least 6% next year to avoid the worst cuts. We also urge extra support for the support for the services hit by the highest rising remand, such as providing temporary accommodation where current funding lags far, far behind our actual costs."
Image credit: iStock