The Department for Education has announced that new free schools are opening up in some of the most disadvantaged areas of the country, as part of a drive to improve school standards.
Fifteen new schools will open as part of the project, with around 12,000 young people set to benefit. This move comes as a continuation of the government's aims to raise the standards of schools, as well as improving educational outcomes around the country.
These schools will be funded by the government, and run by outside organisations, with greater freedom to innovate in how standards are improved including choosing their own curriculum and holding more autonomy over teachers' pay. Three of these schools, located in Dudley, Teesside, and Oldham, will be run by Star Academies and Eton College, and the success of these schools will help to rapidly increase the progression of talented local pupils from the North East, North West and West Midlands into top universities.
The government sees free schools as being crucial to their work to try and raise the standards of education, with it giving parents an increased choice of good schools and improving levelling up around the nation. Wider, it also helps trusts that are already strong to open good schools in new areas, supporting the attraction of fresh expertise into areas of the country that previously would have been left without it.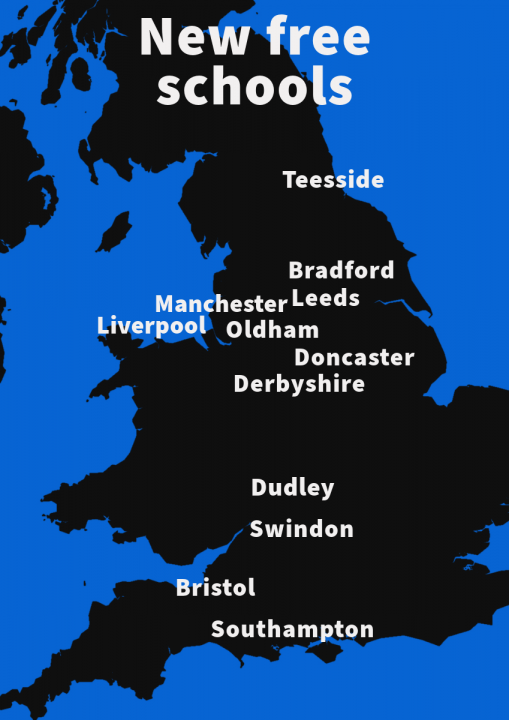 Gillian Keegan, Education Secretary, said:
"We want to make more good school places available to families, and these 15 new free schools will bring brand new opportunities to young people from Bradford to Bristol.
"Free schools bring high standards, more choice for parents, and strong links to industry – and all in the areas where those opportunities are needed most. 
These new schools build on this government's work to drive up school standards since 2010, with 88% of schools now rated good or outstanding – up from 68% - and high-performing academies and free schools in all parts of the country."
A strong partnership will be the basis for the running of the Eton Star Sixth Form Colleges, with Eton College and Star Academies providing financial and extra-curricular support, as well as 480 school spaces each. Speaking about the project, Eton College Headmaster Simon Henderson said:
"We are delighted by this decision. We believe these new colleges have the potential to be transformative both for the young people who attend and for the wider communities they will serve.
"Collaborative partnership will be key to this project's success, and we are very grateful for the support we have had already from the respective councils, from the local communities and from our colleagues in other educational settings."
Image credit: iStock