New analysis from London Councils has revealed that huge savings will be necessary for boroughs to balance their budgets next year.
According to a survey of council finances, the cross-party group has stated that boroughs must make over £500 million in savings, with 90% of boroughs expected to overspend on their budgets. This year, the overspend is estimated to be more than £400 million, with that figure increasing further next year.
The reasoning has landed on a 'perfect storm' of prolonged high inflation, a rapid increase in the demand of services, as well as insufficient funding from the government – with this culminating in a raised risk of financial and service failures. London Councils has stated that the biggest drivers of overspending in boroughs are adult and children's social care pressures, as well as the worsening homelessness crisis in the capital. This comes as the organisation estimates that the equivalent of one in fifty Londoners (almost 170,000) are currently homeless and living in temporary accommodation that has been organised by their local authority. Due to this, councils are expected to overspend on temporary accommodation by £90 million.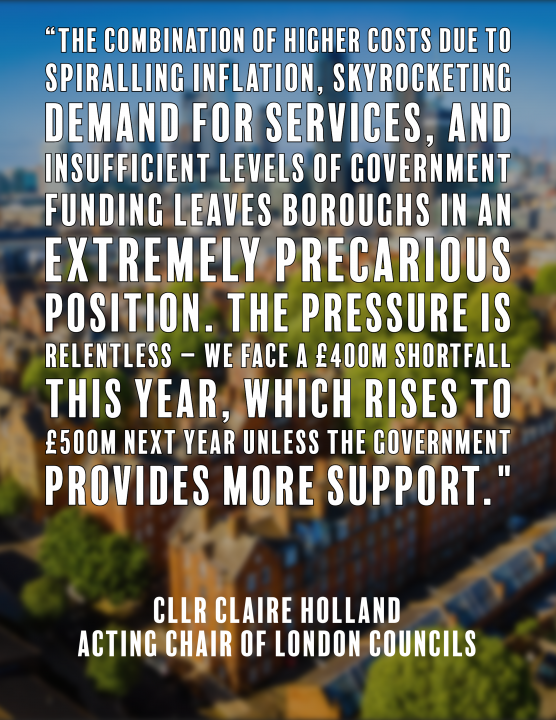 Acting Chair of London Councils Cllr Claire Holland said:
"Borough finances are on a knife edge – with implications for the future of local services in the capital.
"The combination of higher costs due to spiralling inflation, skyrocketing demand for services, and insufficient levels of government funding leaves boroughs in an extremely precarious position. The pressure is relentless – we face a £400m shortfall this year, which rises to £500m next year unless the government provides more support.
"Councils play a vital role in their communities providing essential services and in tackling so many major challenges, such as addressing homelessness, unlocking economic growth, and making faster progress towards net zero.
"The government must use the Autumn Statement to bolster council finances. This will be crucial for helping boroughs stabilise budgets and sustain London's local services."
With the government's Autumn Statement to come in November, London Councils has confirmed its key priorities for how the government can be supported. These include:
An overall funding increase 9% at least

Investment to support a decrease in homelessness, including through the Local Housing Allowance and Homelessness Prevent Grant

Reforming the local government finance system, through giving councils longer-term funding settlements and more devolved powers, with London Councils calling the system "broken."
Currently, resources in London boroughs remain around 18% lower than they were in 2010, despite the number of people in the city rising by almost 800,000. This issue has been compounded by more than £1 billion worth of unfunded or underfunded new responsibilities over that same period, including the government transferring the responsibility of financing Council Tax Support to councils.
Image credit: iStock