Westmorland and Furness Council has announced that it has set aside funding to ensure that it can meet priority targets within the first year of its operation.
The council's cabinet has approached £5 million of investment int 14 projects that reflect the council's main priorities for the area, with these including funding for biodiversity, transport, social care, children, education. Projects will be delivered by the end of March 2024, with this bringing around the one-year anniversary of the beginning of the new council's operations.
Coming into existence this year, the new council took over services from Cumbria County Council and six district authorities. It was joined by fellow unitary Cumberland Council.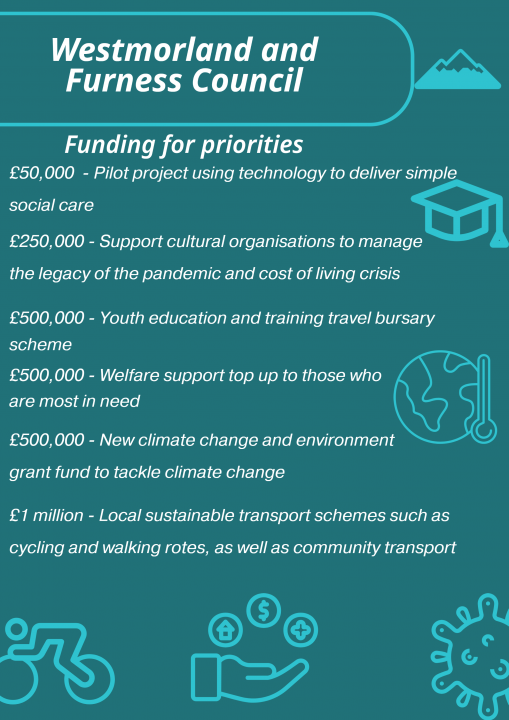 Projects being funded include:
A £500,000 welfare support top up fund to help those that are in need.

A £500,000 youth education and training travel bursary scheme

A pilot project using technology to deliver simpler social care using £50,000 of funding.

Committing £1 million to local sustainable transport schemes such as walking and cycling routes and community transport

A new climate change and environment grant fund of £500,000 to help tackle climate change.

Supporting cultural organisations with £250,000, as they manage the legacy of the pandemic and cost of living crisis.
These projects are being funded to ensure that the vision of the council, to make Westmorland and Furness a better place for all of its residents.
Councillor Jonathan Brook, Leader of Westmorland and Furness Council, said:
"We've focused on things that will make a real difference to local people as quickly as possible. These projects are a statement of intent and reflect our priorities as a new council.
"Creating our council is a huge opportunity to do things differently and improve services and we are realistic about how complex that task is and how long it is going to take. But local people understandably want to see some benefit from this change quickly.
"I would stress, this is by no means all we are going to do, but it's a really positive start and I'm looking forward to seeing the projects get underway."