Chloe Smith, Secretary of State for Science, Innovation and Technology, has hosted a roundtable meeting with senior Artificial Intelligence leaders to begin to establish the opportunities and risks that are facing the United Kingdom's AI industry.
Those who attended the meeting also contributed to the development of the AI Regulation White Paper, as they gave their views on how the UK can be a leader in tackling risks of AI whilst also encouraging innovation and growth. The roundtable focused in on three key discussion themes:
The risks and opportunities presented by AI technologies, and the guardrails required to ensure safe and responsible AI

The aspects of AI where the UK should play a greater role, including global leadership in AI governance and regulation

The non-regulatory measures which could help to support growth and innovation by AI companies in the UK.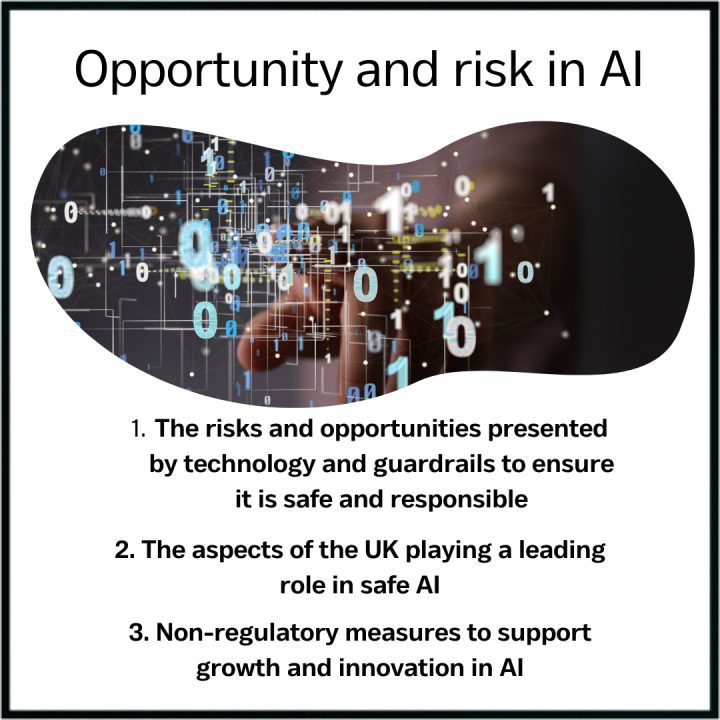 Points of discussion included access to open datasets, growing regional centres of excellence to ensure that SMEs can connect with researchers and helping SMEs to scale through increased access to capital and resources. It was also discussed that regulation needs to be proportionate and must protect innovation, whilst considering the challenges that might come in the future due to the rapidly evolving nature of the technology.
Viscount Camrose, Minister for Cyber, AI, and Intellectual Property, was in attendance at the meeting. In May Camrose touched on the leading position of the UK in technology, whilst also bringing Connected Places into the conversation. He said that "we are already world leaders in cyber security, as demonstrated through pioneering measures such as the Product Security Regime. It's vital that this expertise carries over to the development of our Connected Places."
In April, Prime Minister Rishi Sunak outlined the potential of AI in the UK, saying:
"Harnessing the potential of AI provides enormous opportunities to grow our economy, create better-paid jobs, and build a better future through advances in healthcare and security.
"By investing in emerging technologies through our new expert taskforce, we can continue to lead the way in developing safe and trustworthy AI as part of shaping a more innovative UK economy."