The Scottish Government has announced that it has agreed a deal with the onshore wind industry, that will see the nation become a European hub for renewable energy.
Signed last week, the Onshore Wind Sector Deal sees a commitment to making Scotland a European hub for the recycling and repurposing of wind turbine blades, as well as further measures that will help communities benefit from the potential of onshore wind. This includes boosting the economy and the reduction of carbon emissions.
As the challenge of disposing of decommissioned wind turbine blades increases, the sector has committed to opening a treatment plant in Scotland that will, with government support, create jobs for communities, push an environmentally friendly solution to the disposal issue, and position Scotland as a leader in the technology.
Neil Gray, Scottish Energy Secretary, said:
"This deal is a practical example of Government and industry working closely together to reinforce our shared commitment to reaching net zero.
"As we embrace the possibilities, we acknowledge the challenges that lie ahead. Balancing the needs of energy production with proper environmental stewardship demands diligence and continuous innovation. This deal charts a course that safeguards our natural heritage while delivering clean, affordable energy to power our lives and industries.
"By benefiting communities, we are ensuring the rewards of our onshore wind revolution are shared by all. This helps meet our Programme for Government commitments and create a green and growing economy with fairness at its heart."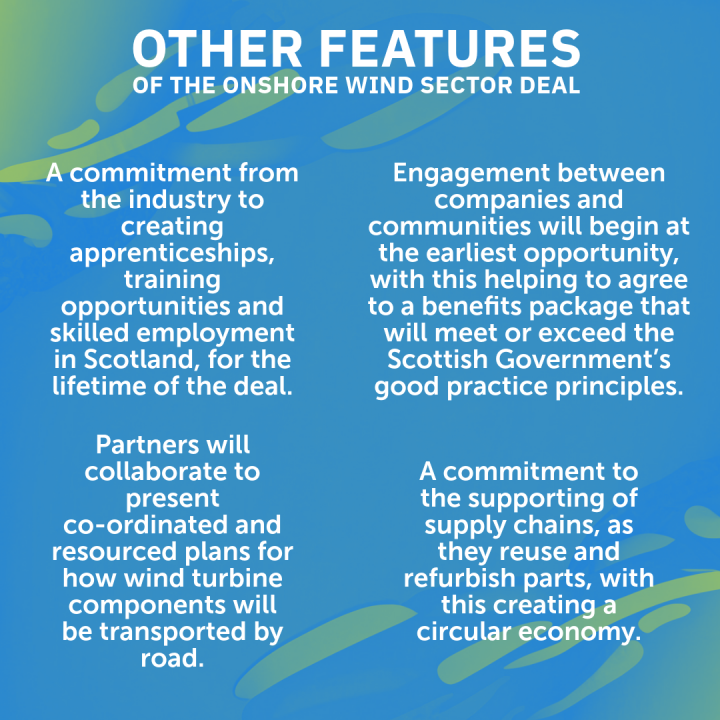 Other features of the deal include:
A commitment from the industry to creating apprenticeships, training opportunities and skilled employment in Scotland, for the lifetime of the deal.

Engagement between companies and communities will begin at the earliest opportunity, with this helping to agree to a benefits package that will meet or exceed the Scottish Government's good practice principles. Examples of how this could be done include investing in low-carbon heating in local homes, as well as energy efficiency upgrades.

Partners will collaborate to present co-ordinated and resourced plans for how wind turbine components will be transported by road.

A commitment to the supporting of supply chains, as they reuse and refurbish parts, with this creating a circular economy.
Circular Economy Minister, Lorna Slater, added:
"The sector deal reflects our shared determination to grow Scotland's vital wind power sector and to create green jobs across the country as we transition to a net-zero economy. It will see more wind farms, more communities benefiting, and more economic opportunity, while ensuring developments are in harmony with our environment.
"This deal also positions Scotland to become a world leader in decommissioning, remanufacturing and recycling of wind turbines and related assets, and I look forward to working with the industry to help make this happen."
Image credit: iStock