The Department for Health and Social Care has announced that new funding will support technology transformations in adult social care, helping to improve patient outcomes.
New technology aimed at helping to improve the independence of people who receive care, as well as supporting a reduction in avoidable hospital admissions, will be backed by more than £3 million of investment through the Adult Social Care Technology Fund. This investment will help with the identification of care-focused technology solutions, with the potential for even wider rollouts within the rest of the sector, furthering the case to prioritise investment in care technology.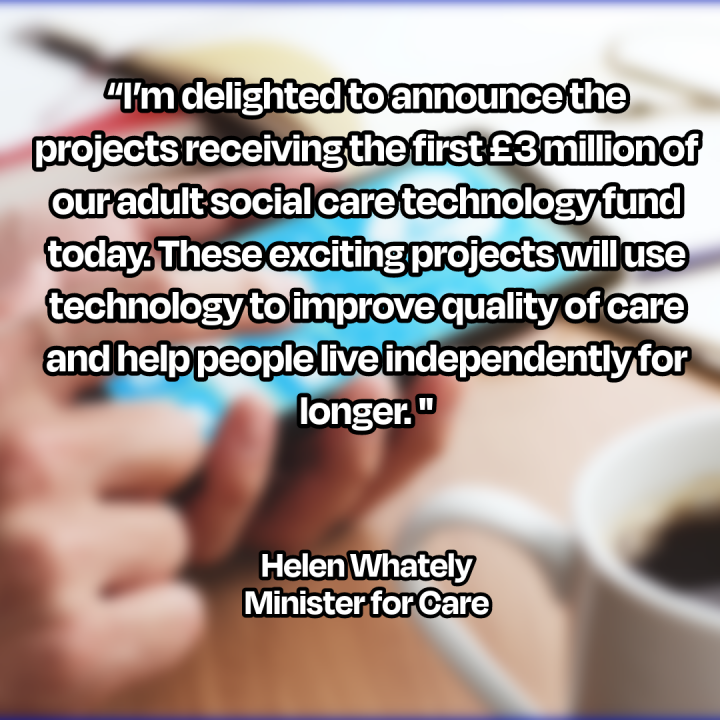 Helen Whately, Minister for Care, said:
"I'm delighted to announce the projects receiving the first £3 million of our adult social care technology fund today. These exciting project will use technology to improve quality of care and help people live independently for longer. More care at home and more personalised care is what people want and helps reduce pressure on the NHS.
"We are also investing in digital care records to join up care and reduce the burden of admin on staff. I look forward to seeing these projects develop and scale up the use of technology in social care, better meeting people's care needs and helping us build a sustainable care system."
Almost £1.2 million of the funding will be allocated to Shropshire Council and its partners, including Shropshire, Telford, and Wrekin Integrated Care Board, to help embed technology in people's homes that will work alongside a virtual care delivery service, to help meet care and support needs digitally. This project will help to support independence at home as well as helping people to manage their daily needs.
Programme Manager at Shropshire Council, Charlotte Hall, said:
"We are thrilled to have been awarded the CareTech funding, enabling us to further develop and expand our virtual care offer in Shropshire. This is particularly beneficial to individuals that live in rural, hard to reach areas in the county where it can be difficult to find care availability or for those that are reluctant to have carers entering their homes but require some degree of care and support to enable them to remain independent and in their homes for longer.
"This funding will enable the project to expand, reaching more people and allowing us to test new approaches to social care delivery."
Reading Borough Council will get an allocation just over £1 million for the trialling and understanding of the potential of sensors to monitor significant changes in a person's daily habits that might cause concern, with this aimed at systems that can support people to live with sustained or increased independence, as well as a sense of safety and security.
Investment worth almost £380,000 will be given to Greater Manchester Integrated Care Board and partners to investigate the effectiveness and cost implications of a digital fall prevention programme. This will be aimed at older people living in the community that receive care and support in their home, enabling the user to undertake a bespoke fall prevention programme, whilst integrating health literacy games to improve awareness of healthy activities.
Just over £300,000 will be allocated to the National Care Group to improve the quality of medication management and recording, whilst highlighting independence in taking medication. This will be done using an Electronic Medication Administration Record System and will improve the accuracy of medication records to further improve health outcomes for 1,236 people.
This funding will be open for applications on a rolling basis, with Integrated Care Systems, care providers, local authorities and technology suppliers invited to submit expressions of interest. These expressions of interest were based on technology solutions that focused on at least one of the three main priority areas: increasing care quality and safety, reducing avoidable admissions or readmissions to hospital, and increasing support for people to live independently in their homes.
To hear more on Levelling Up, including issues relating to health and wellbeing, from leaders and key figures within the UK public sector, register for Public Sector Executive's Levelling Up virtual event here.
Image credit: iStock