York has become one of only two European cities to be announced on the shortlist for a major city mobility challenge.
The challenge, launched in the summer by Toyota Mobility Foundation in partnership with Challenge Works and World Resources Institute, is looking to help cities futureproof through innovation. York is planning to use the $9 million challenge to turn the fragmented parts of its public and shared transportation systems, as well as private vehicles into a more cohesive transport system that will support improved urban management.
York is currently working to a net zero target of 2030, whilst transport is around a third of the city's total emissions. This has the potential to negatively impact health, well-being, as well as the country's historic architecture, with the net zero target requiring a 20% reduction of vehicle miles, as well as the need to decrease the impact of every journey that is taken. Through the challenge, York will work to empower sustainable transport decisions, whilst also increasing the affordability of passenger and goods transportation.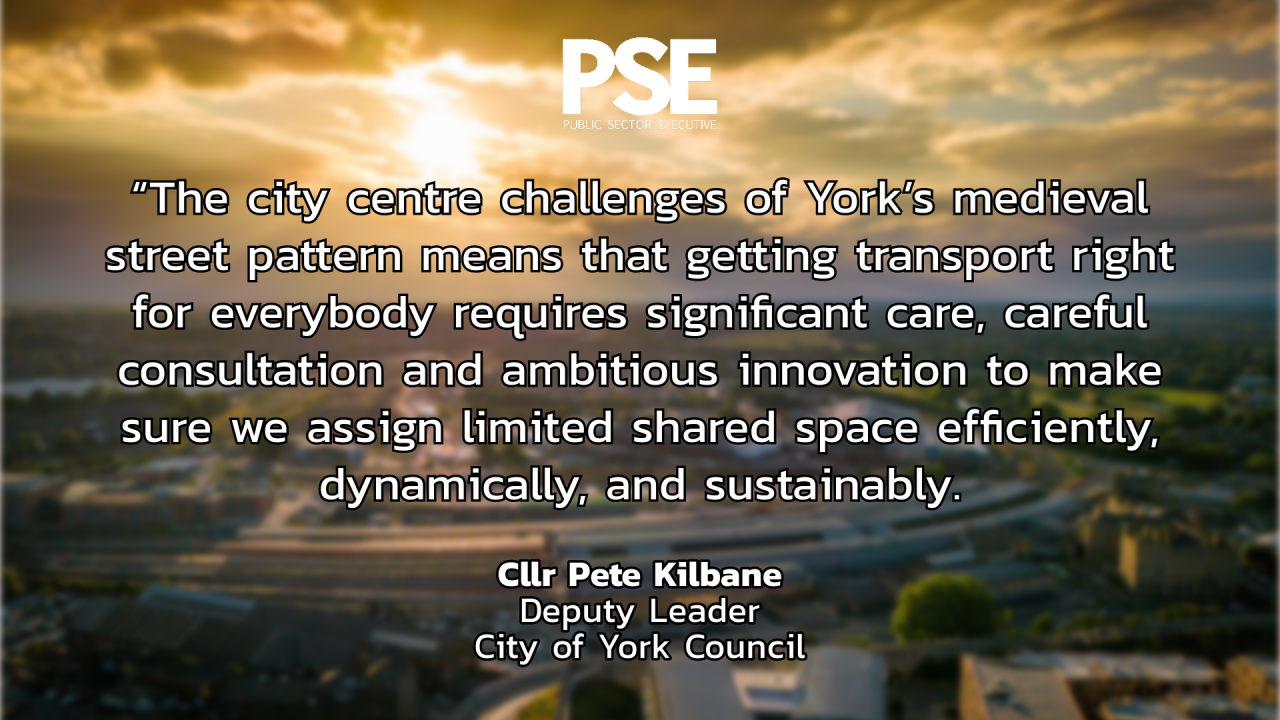 Deputy Leader and Executive Member for Economy and Transport for City of York Council, Cllr Pete Kilbane, said:
"Our Council Plan, 'One City for all' makes very clear that our focus on our core commitments – creating equal opportunity, finding innovative ways to make the city more affordable, tackling climate change, and improving health and wellbeing – means preparing for the future, adapting our city to extreme climate events, and enhancing our environment for future generations as well as delivering sustainable, accessible transport for all.
"The city centre challenges of York's medieval street pattern means that getting transport right for everybody requires significant care, careful consultation and ambitious innovation to make sure we assign limited shared space efficiently, dynamically, and sustainably.
"It is a significant credit to York that we have been included in this global list of world-leading cities. This challenge will help us to get the innovation needed to achieve a better balance between people and goods across a range of competing mobility needs and vehicle types, improving mobility for the people and businesses of York.
"This is a major boost as we embark on the very significant and broad Our Big Transport Conversation consultation we are carrying out from later this month, as part of our commitment to reducing vehicle miles by 20% and delivering a transport infrastructure here in York."
Cities that wished to take part in the challenge were invited to find areas in which they can utilise innovation to improve the safety, affordability and inclusivity of transport, as well as how data can be used to create connected and resilient mobility ecosystems, and the reduction of impact on the environment. More than 200 entries were submitted to the challenge, with 46 countries from around the world represented including Brazil, Colombia, India, Italy, Malaysia, Mexico, the UK, and the USA.
Michael Howard, City of York Council's Head of Highways and Transport, added:
"Resolving transport is not only a city challenge, but also a regional and global one as people's movement often impacts more than just one place and that signals a need for initiatives that support collaboration and innovation at a global scale.
"York's ageing population is experiencing greater need for personalised mobility services while at the same time, an affordability crisis is undermining accessibility, and Covid-19 has changed commuting patterns. A growing understanding of the need for enabling transport provision for women and people with disabilities requires a reconfiguring of urban transport.
"York also receives almost 20 times per capita more visitors than London, adding significant demand when transport (mostly from road transport) is already almost a third of York's total emissions, negatively impacting health, wellbeing, and the city's architectural heritage. The 2030 Carbon Net Zero target recognises the need to shrink the impact of each journey. York's solutions need to empower sustainable mode choices while increasing affordability of passenger and goods movements."
From the shortlisted cities, three will be selected to launch their own City Challenges, with global innovators being invited in 2024 to work alongside them. These innovators could be from anywhere in the world, be that in the city or nation in which the challenge has been launched, or another part of the globe These will see up to $9 million being made available to both cities and innovators across a two-year period, to support the growth and scaling of the solutions that had been identified.
Image credit: iStock