In order to discover how public car parks can be used to help meet the needs of communities as they look to thrive, a survey is being carried out in Breckland.
Seven years after the last survey that the Breckland Council carried out into car parks, this development comes as part of a review into public amenities, with the council being able to look into any changes in usage patterns. This is particularly important as it is the first review since the pandemic meaning that things such as remote working and shopping habits have changed since the pre-pandemic reviews.
Information will be gathered through the temporary installation of number plate recognition cameras at entrances and exits of 32 car parks in the area. This will take place over the course of four to six weeks from late June. Once this information has been gathered, it will be combined with feedback from pervious consultations to work out whether any changes need to be made to car parking provisions.
By working out how car parking can be changed, the council can better match the facilities to the demand of residents and visitors. This will, in turn, help businesses and the local economy to thrive, providing additional communities benefits.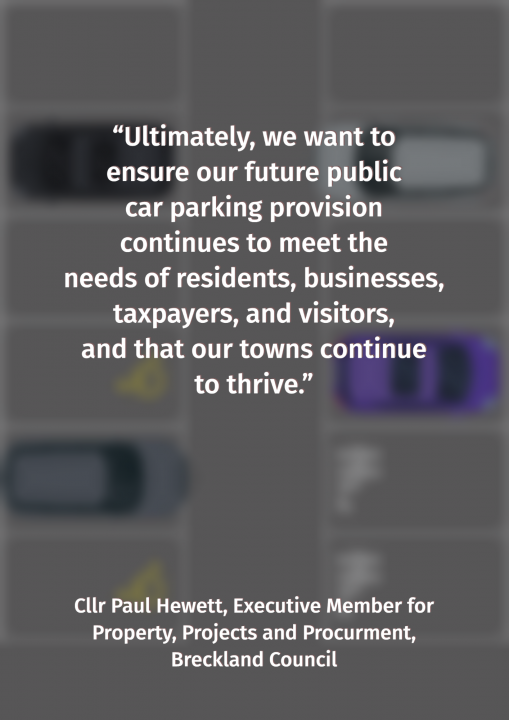 Councillor Paul Hewett, Executive Member for Property, Projects, and Procurement at Breckland Council, said:
"We have previously made changes to some of our car parks in Swaffham and Atteborough is response to local needs, identifying that increased churn in spaces was beneficial to shoppers and businesses alike. We continue to listen to feedback from the public, town councils and our other partners about how our approach to car parking can best support our towns and surrounding areas.
"This latest study will give us up-to-date information about how residents and visitors currently use the council's range of car parks and help inform plans for the long-term growth, development and regeneration of the district's town centres. Ultimately, we want to ensure our future public car parking provision continues to meet the needs of residents, businesses, taxpayers, and visitors, and that our towns continue to thrive."
Breckland Council has also announced that the personal details of people utilising car parks during the survey period will not be collected, this includes where cars are registered and other travel activity.
Image credit: iStock