Key Cities has announced that two new cities have joined the network, bringing the total number up to 28 and now representing approximately 10% of the UK's population.
Cumberland and Stoke-on-Trent have now become new members of the network, working alongside local government to achieve wider public sector goals such as protecting the environment and delivering prosperity.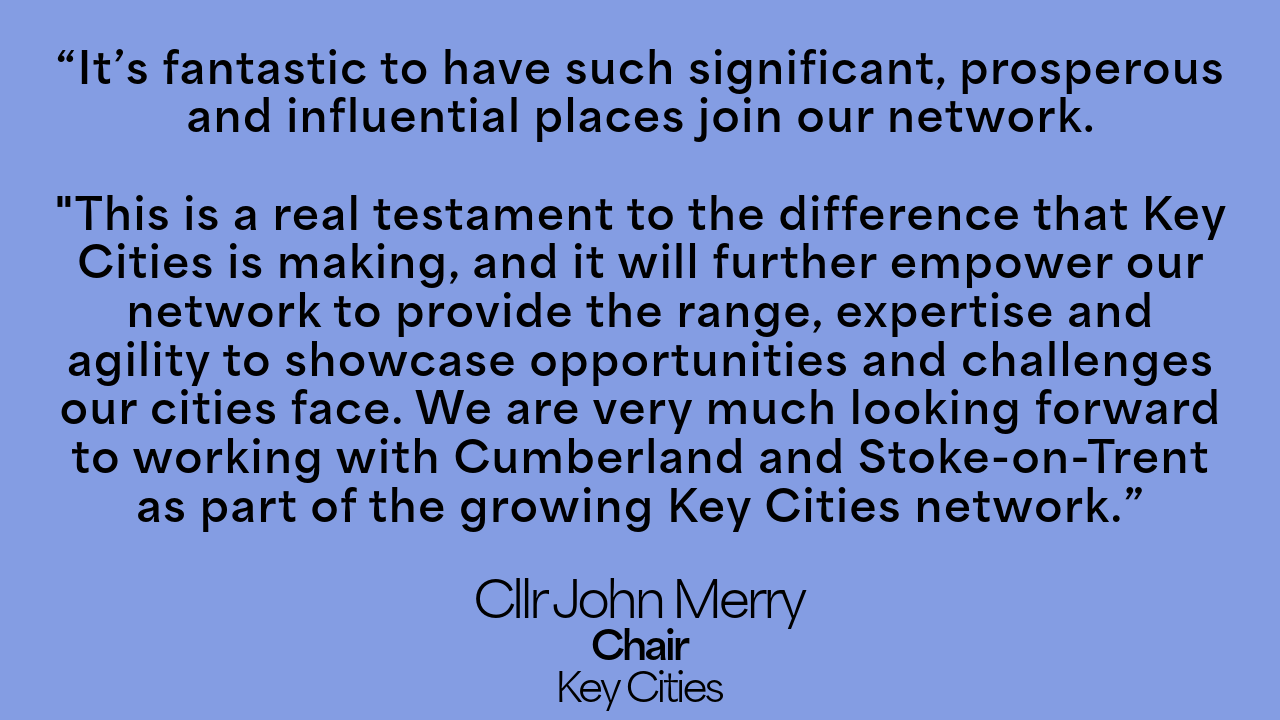 Chair of Key Cities and Deputy Mayor of Salford, Cllr John Merry, said:
"It's fantastic to have such significant, prosperous and influential places join our network. This is a real testament to the difference that Key Cities is making, and it will further empower our network to provide the range, expertise and agility to showcase opportunities and challenges our cities face. We are very much looking forward to working with Cumberland and Stoke-on-Trent as part of the growing Key Cities network."
Through the Culture and Place in Britain and Skills for Cities, Skills for Life reports, the network has highlighted the role that culture can play in the development of communities, as well as how local economies can be supported through an increased devolution of skill-based power and funding.
Councillor Mark Fryer, Cumberland Council Leader, added:
"Key Cities is about working together – we look forward to being part of the growing network. Collectively we can contribute to the UK economy and support communities by being a voice for the area.
"We look forward to being a part of the network. Cumberland has lots to offer and we aim to showcase the area to partners and visitors alike."
Stoke-on-Trent Council's Leader, Cllr Jane Ashworth, also commented:
"Key Cities is a highly influential partnership consisting of some of the most innovative and successful urban centres in the UK, and it's essential Stoke-on-Trent should be collaborating with our peer cities at this level. Aside from population size, Stoke-on-Trent has also proven itself to be one of the UK's most influential and innovative places in recent years. We have a unique and vibrant cultural offer, our economy is among the fastest-growing nationally, and initiatives such as the District Heat Network have positioned our city at the forefront of innovation around energy and climate.
"Joining Key Cities also allows us to share our knowledge, experience and evidence of best practice with 27 other places with similar priorities and challenges to our own and having access to this breadth of expertise and research data will be hugely beneficial as we focus on tackling inequality and making our local economy work for the benefit of our residents and communities over the next four years."
Image credit: iStock