Thanks to government funding, Oxfordshire County Council is set to put a cap on Sunday single bus fares, as part of a project to improve services and increase patronage during the build up to Christmas.
Additional funding of £1.9 million has been allocated to the council to implement measures to increase patronage, maintain service levels, ensure that there is a good standard of social and economic connectivity for communities. This funding will also come on top of the £12.7 million that was allocated as part of the successful Bus Service Improvement Plan application.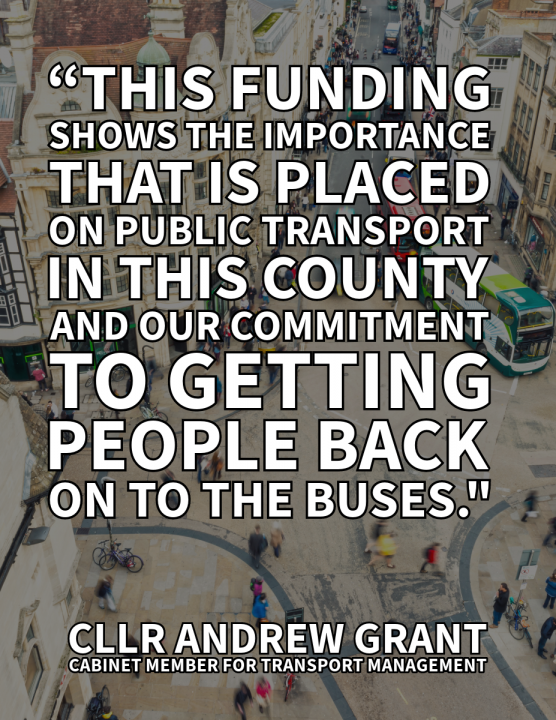 Oxfordshire County Council's Cabinet Member for Transport Management, Cllr Andrew Grant, said:
"This funding shows the importance that is placed on public transport in this county and our commitment to getting people back on to the buses. The package of proposals represents a step change in service provision across Oxfordshire, with all the districts benefitting from some level of improvement as a result.
"It will be used to fund innovative schemes such as cut-price fares in the run up to Christmas – both this year and next year – as well as securing services that require financial support to ensure their survival, such as those affected by the closure of Oxford's Botley Road."
As part of the plans to improve the public transport services in the area, the council established the Oxfordshire Bus Enhanced Partnership earlier this year. Bringing the council and the private bus operators in the county together, the collaboration is aiming to improve services, ticketing and infrastructure whilst utilising key expertise, innovation, and external investment to achieve key goals.
Speaking about the funding, Roads Minister Richard Holden said:
"People up and down the country deserve a modern, reliable and affordable public transport system. That is why we have provided Oxfordshire with over £13 million to help boost bus services.
"Supporting the council with capping Sunday fares at £1 in December in the run-up to Christmas and potentially introducing a countywide bus ticket valid for all operators is fantastic for local residents, who will now be able to get to work, attend medical appointments and visit loved ones for less."
Transport is one of the central points in the mission to level up the nation, and you can hear more about it from sector experts at Public Sector Executive's levelling up event. Register for the Transport and Air Quality panel discussion here.
Image credit: iStock