The Department for Science, Innovation and Technology has announced that the UK Government is looking to boost innovation in networked technologies.
Funding to achieve this has been awarded to the X-Catapult Consortium, with the plan being to build a network of industry, academia and the public sector, to develop technologies such as robotics, augmented and virtual reality, and digital twins. Digital twins are able to test real-world objects in virtual environments to test and perfect them using advanced computer simulations.
New opportunities for collaboration across the tech industry, academia and the public sector can also be considered thanks to a new National Cyber Physical Infrastructure ecosystem, with the aim of deploying these new networked technologies through that.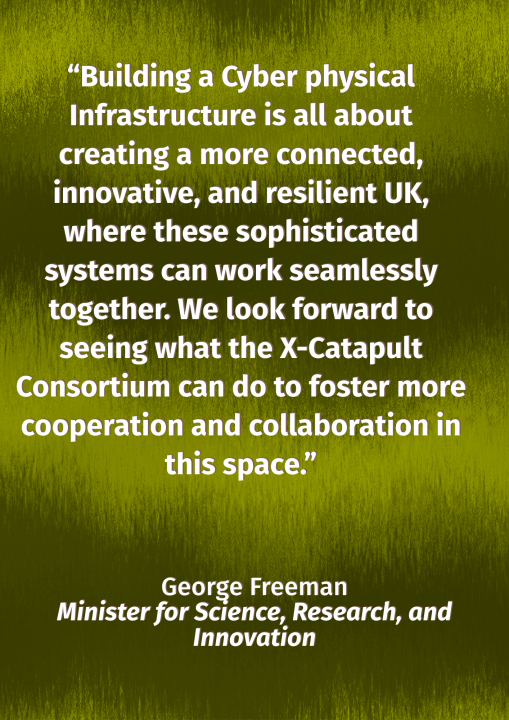 George Freeman, Minister for Science, Research, and Innovation, said:
"The technologies that power a modern economy are often underpinned by complex physical and virtual foundations which help them function – whether that be environmental sensors or wireless networks for transferring data.  
"Building a Cyber physical Infrastructure is all about creating a more connected, innovative, and resilient UK, where these sophisticated systems can work seamlessly together. We look forward to seeing what the X-Catapult Consortium can do to foster more cooperation and collaboration in this space."
The funding comes from the Cyber Physical Infrastructure Ecosystem Building competition, launched earlier this year by the Department for Science, Innovation and Technology, with Cyber Physical Infrastructure referring to the way that technologies interconnect and interact with the systems across the real and virtual world. Examples of technologies encompassed in this sphere include sensors that help electric vehicles to communicate with smart energy grids, as well as systems that enable robots in factories to collect and assemble things more efficiently.
Benefits of this technology, much like computers and other devices that are connected via the internet, are seen the more networked they become, and capabilities are increased.
A number of sectors are set to see these benefits, with Cyber Physical Infrastructure looking to tackle key challenges in public health services and the environment.
Image credit: iStock