The National Institute for Health and Care Research has announced a new funding programme that will fund important social care research.
Amounting to £10 million, the programme will help to fund research aiming to generate evidence in how the way that social care is delivered can be improved, expanded, and strengthened.  Titled the Research Programme for Social Care (RPSC), the new funding programme will come in to replace the Research for Social Care funding call, which is responsible for the investment of £13 million into social care research since its 2019 launch.
Research will be focused on how social care can be improved for adults and children, with applications from researchers at all stages of their careers being encouraged and funding available for a wide range of social care topics and research designs. The announcement from the NIHCR also states that applicants in Scotland, Wales and Northern Ireland will also be eligible for funding.
Director of the NIHR School for Social Care Research, Professor Martin Knapp, said:
"The launch of this new Programme highlights NIHR's commitment to funding the research we need to improve social care. I'm excited to work with people who draw on social care, carers, and social care professionals across the sector to tackle the challenges we need to address with innovative new research."
Professor Knapp will lead the programme as Programme Director, with experience in his current role at the NIHR School for Social Care Research being supported by a position as Professor of Health and Social Care Policy at the London School of Economics and Political Science's Care Policy and Evaluation Centre.
The new funding programme is well aligned with the Department of Health and Social Care's new Innovation and Improvement unit. The unit works alongside partners in the sector on the establishment of clear priorities in innovation and research all across adult social care.
Once the unit has been fully established, it will continue to look into how aspects of policymaking and care delivery can be informed by research. The driving force behind this will be to make sure that best practice and new approaches are followed, allowing for improved care outcomes for those who need it.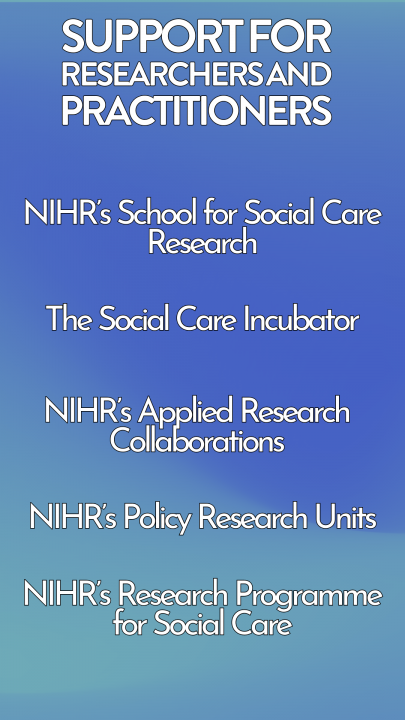 Since 2006, the NIHR has awarded social care research projects more than £200 million to continue their focus on building and improving social care research. Alongside the new project, other high-profile schemes have been put in place to support researchers and practitioners. These are:
NIHR's School for Social Care Research

The Social Care Incubator

NIHR's Applied Research Collaborations

NIHR's Policy Research Units
Research funding for rigorous and relevant evidence in improving the quality, accessibility and organisation of services is also funded by the NIHR's Health and Social Care Delivery Research Programme.
Image credit: iStock