The Transport Committee has announced that the government must keep its focus on improving bus services all over the country, with the Chair of the committee welcoming additional funding.
The National Bus Strategy was published in March 2021, focusing on the improvement of services around the country, as well as encouraging more people to use buses instead of their cars. This came following a fall in public transport use over the Covid-19 pandemic that was exacerbated by a decline in the quality of service on offer. It is hoped that a rise in the use of buses, in comparison to car use, will also contribute to the nation's net zero ambitions.
As part of a challenge to councils, the government introduced Bus Service Improvement Plans, requiring local authorities to partner with local bus firms as they look to work on detailed, costed plans of how services can be improved in communities. Measures through which this can be done include investment in bus upgrades, cashless payments, and smart ticketing systems. As part of the plan, councils around the nation submitted their plans to the Department for Transport, however 60% of the bids for funding – which came from a pot of £1.1 billion – were rejected, with all applicants receiving less funding than they requested.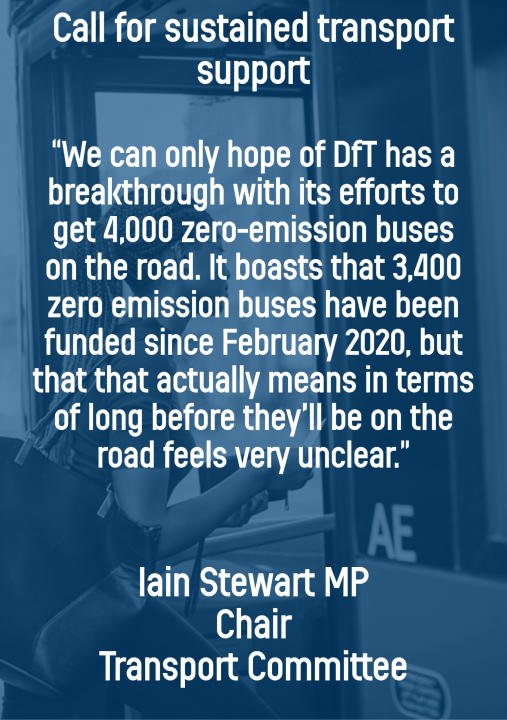 Through the report, the Transport Committee has urged the Department for Transport to make further funding available to realistically achieve the National Bus Strategy.
Following the publication of the Department for Transport's response to the Transport Committee's report scrutinising the National Bus Strategy, Iain Stewart MP, Chair of the Transport Committee, said:
"Our report warned that if the government did not loosen the purse strings and give at least some BSIP funding to all areas of the country, a two-tier system could emerge, with some areas having notably worse services than others in neighbouring towns and cities. Although the Government did not explicitly acknowledge this warning, we are pleased it appears to have taken the idea on board, and that the latest round of funding saw those councils that missed out last time getting some of the pie.
"We still believe that the government should find more funding beyond 2025 to truly transform local services in the way its original Strategy envisaged. We look forward to hearing the outcome of the evaluation of BSIP funding that DfT now plans to conduct.
"Elsewhere ministers deserve credit for sticking with the £2 fare cap. Ridership has been gradually recovering partially thanks to this, which is exactly what we need to get emissions down and quality bus services on a sustainable footing. But we need ministers to keep this up and realise this really is money well spent.
"We can only hope of DfT has a breakthrough with its efforts to get 4,000 zero-emission buses on the road. It boasts that 3,400 zero emission buses have been funded since February 2020, but that that actually means in terms of long before they'll be on the road feels very unclear."
Image credit: iStock