Greater Manchester Mayor Andy Burnham is advocating for net zero funding to be based on local flexibility, as well as being supported by a stable and progressive approach.
This call for local flexibility came at yesterday's Greater Manchester Green Summit, with Burnham saying that a place-specific approach can help to double energy savings, as well as bringing in wider social benefits at reduced costs. After becoming the first city-region in the United Kingdom to develop Local Area Energy Plans (LAEPs) for its district, Greater Manchester has also now prepared a strategic outline business case for energy generation, decarbonisation retrofit and heat network investment to the tune of £12.5 billion.
One part of Greater Manchester's decarbonisation journey has come through the introduction of the Bee Network, which saw 50 new zero emission buses being brought into service across Wigan, Bolton, Salford and Bury. The Bee Network has been able to success after bringing buses under local control for the first time in 40 years. Moving forward, a further 50 vehicles are to be delivered in March 2024 (with 250 being delivered in the following three year period) as the network is expanded.
Carbon emissions will be reduced by 1.1 million tonnes through the use of these buses alone, whilst the network also supports the region's ambition to have a sustainable transport network by 2032.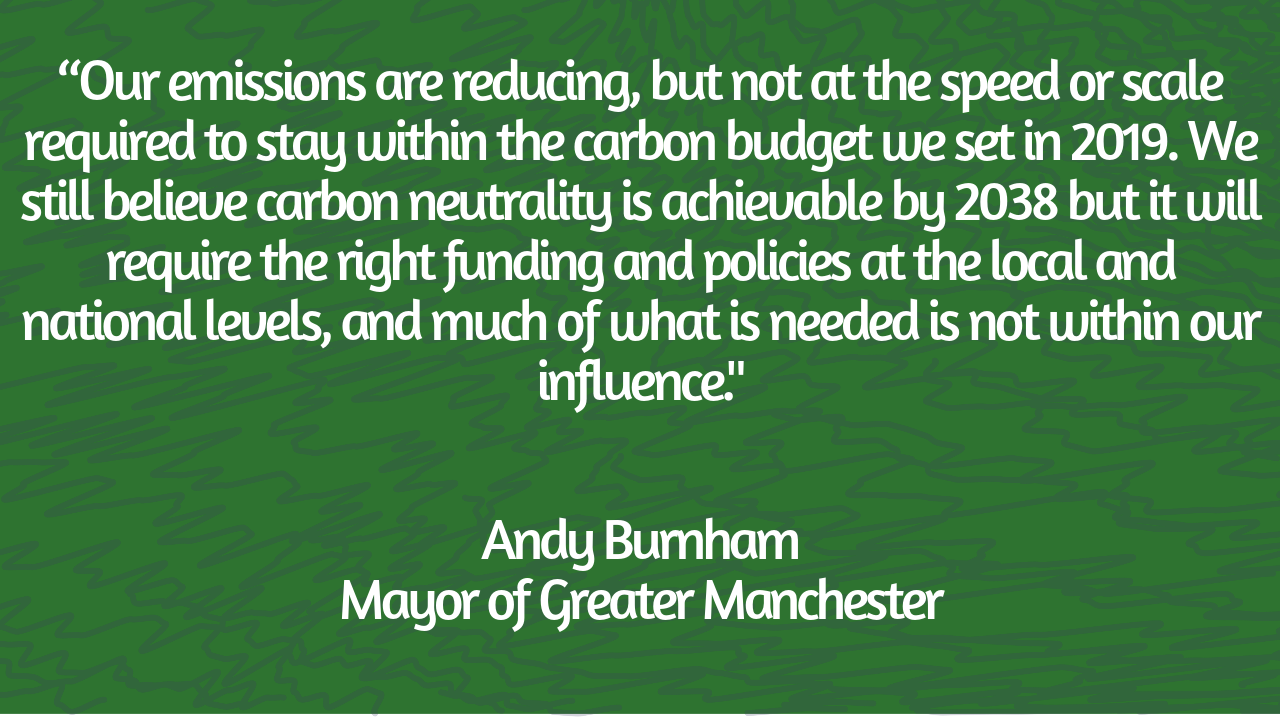 Burnham said: "Greater Manchester remains committed to reaching our target of carbon neutrality by 2038, but to achieve this our efforts locally need to be matched by the right national government policies and investment.
"Our emissions are reducing, but not at the speed or scale required to stay within the carbon budget we set in 2019. We still believe carbon neutrality is achievable by 2038 but it will require the right funding and policies at the local and national levels, and much of what is needed is not within our influence.
"The Bee Network is a pivotal moment for Greater Manchester – not just for transport, but for our environment and clean air. With further backing (and) support we can delvier a fully decarbonised transport system."
The Green Summit saw a wide range of new projects being unveiled, with these including:
Local Energy Advice Demonstrator: A programme of £2.14 million that will look to provide in-person energy advice to people who might otherwise not have access to it.

Powering Our Schools: A new campaign for 50 Greater Manchester schools to install solar panels, helping to provide them with cheaper, greener energy.

Resilient Cities Network: Building community resilience to climate hazards alongside the Greater Manchester Resilience Unit, with this focusing on heat and floods. This will be implemented across Higher Fold, Wigan, and Edgeley.

Integrated Water Management Plan: The establishment of the UK's first city-region scale water management plan, in partnership with United Utilities and the Environment Agency.

Truly Affordable Net Zero Homes: Setting the standards for the 30,000 Truly Affordable Net Zero homes being built in Greater Manchester by 2038.
Greater Manchester Combined Authority's Lead for the Green City-Region, Cllr Tom Ross, added:
"The Greater Manchester Green Summit provides a chance to reflect on the process made and challenges ahead as we continue the journey to net zero. We've made massive strides on decarbonising transport, making homes more energy efficient, and improving our natural environment, but there's still an enormous amount of work to be done. It's a crucial moment for our city-region, our country, and our planet. For our 2038 target to be achievable, we need everyone to play a part."
Image credit: iStock