School Street trials carried out by Enfield Council began in September 2020, to support the return to in-school education after the first national lock down. The scheme operated until the second lockdown in December 2020 and resumed operation in March 2021.
Craig Nicol, Healthy Streets and Complimentary Measures Manager, Enfield Council said: "We have worked very closely with the 12 local schools involved in phase one of School Streets in Enfield to ensure the smooth running of the trial. This has included the launch of a dedicated online platform to capture comments from residents and parents on how the scheme has been received.
"One special educational needs school involved in the trial typically brings all its pupils in via transport, which caused a logistical challenge. To overcome this Enfield Council worked with the school to reverse the one way system usually in operation in their car park and communicated the change to all staff and transport teams to avoid any conflicting vehicle movements.
"This entire project was delivered at an extremely fast pace, with the 12 trial schools all fully operational in just eight weeks. This was against the very challenging backdrop of the Covid-19 pandemic, as well as having to meet strict criteria for Government funding, and provide additional social distancing measures to the schools. We are immensely proud that we were able to deliver this project, working entirely remotely over MS Teams, with the only face-to-face elements delivered being site assessments and barrier training carried out by staff and suppliers."
What are School Streets?
A School Street is a safety system whereby local authorities install dedicated pedestrian and cycling zones outside a school during high-traffic drop off and pick up times, limiting vehicular access and supporting student safety and wellbeing.
Exemptions can be granted during School Street hours of operation to residents, local businesses and blue badge holders, provided controlled access. Volunteers give up their time to man the road closures, in order to support the operation.
School Street operating hours are typically 08:15 to 09:15 hrs and 14:45 to 15:45, Monday to Friday during term time only.
Adapting School Street during Covid-19
During Covid-19, Enfield Council installed additional safety measures to ensure the School Street schemes could remain fully operational when pupils returned to school.
These included mounting oak planters on carriageways, which created a social distancing measure for volunteer marshalls, as well as holding poles and signage - avoiding the delays of ground works and keeping the scheme mobile, in line with the trial's objectives.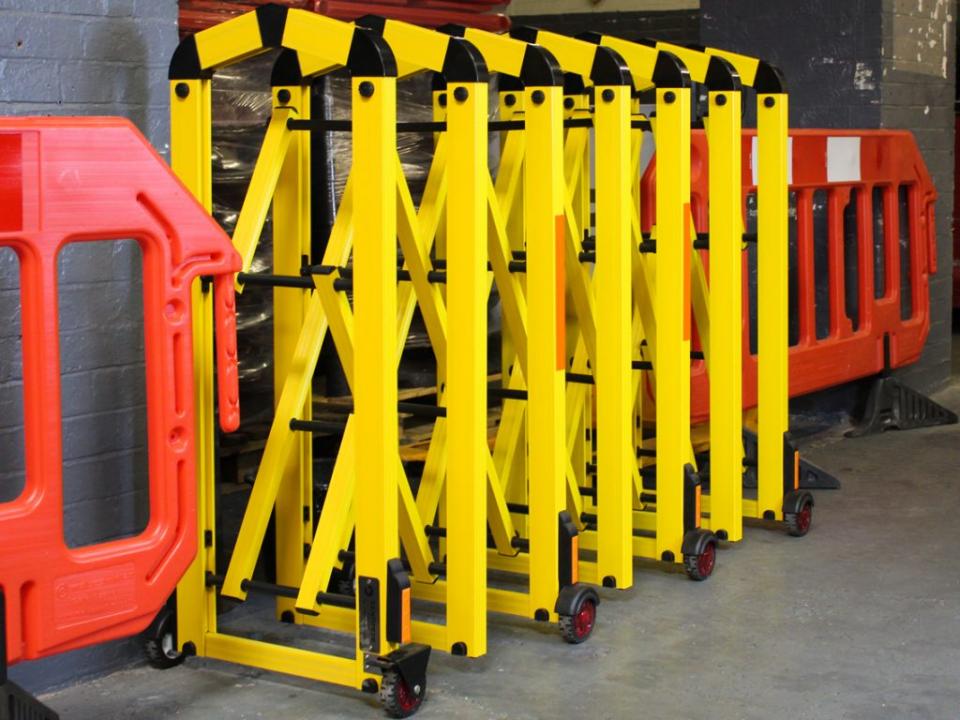 Temporary safety equipment including safety cones and barriers – portable expanding 'centipede' barriers – were supplied by SafeSite Facilities to further support social distancing measures.
A training day was arranged for volunteers so they knew how to operate the scheme and the safety barriers. Lanyards were provided containing site plans and quick reference guides.
What are the benefits of School Streets?
School Streets is one way that Enfield Council is helping to tackle climate change and the escalating levels of pollution at peak times on the local road network.
In Enfield, reduced traffic volumes have led to reductions in local emissions, helping to deliver on the council's "climate emergency" commitments.
Transport for London commissioned a study on air quality monitoring, to evaluate the School Streets scheme. Ten of Enfield's 12 trial schools participated in the study, carried out by an independent air quality consultancy.
Kingfisher Academy in Enfield was one school which achieved measurable improvements in air quality - cutting NO2, which is largely produced by diesel vehicles, by 23 per cent on the date the air quality was tested, compared with schools without traffic restrictions.
Matt Clifford, Head Teacher at Kingfisher Academy, said: "The School Street scheme has been transformational for the wellbeing of pupils, staff and parents in such a remarkably short space of time. We now have a much calmer start to the day, where we used to face a dangerous, gridlocked road, with bad-tempered drivers and lots of angry parents. Previously we even had two pupils knocked down and injured outside the school."
School Streets also aims to positively benefit children's health and mental wellbeing in the borough, where rates of childhood obesity are one of the highest in London, by encouraging active travel to school.
It is hoped that by reducing the reliance on public and private transport the scheme will also improve road safety around the schools.