A new report from the Institute for Government has outlined potential new tests for establishing a whether a new public body should be created, with claims that the government's established methods have led to flawed decisions.
The existing tests used by the government were introduced in 2010, however they were originally criticised by the Public Administration Select Committee for not being "properly thought through." Despite this, there have been no updates to the tests, with the report from the IfG stating that this may have contributed to "mishandled public body abolitions." Examples provided include the closures of the Audit Commission, the UK Border Agency, and Public Health England.
Current Cabinet Office guidance states that new arms-length bodies should be established as a last resort, however the report proceeds to warn that this could be distracting to decision-makers, as well as being counter-productive.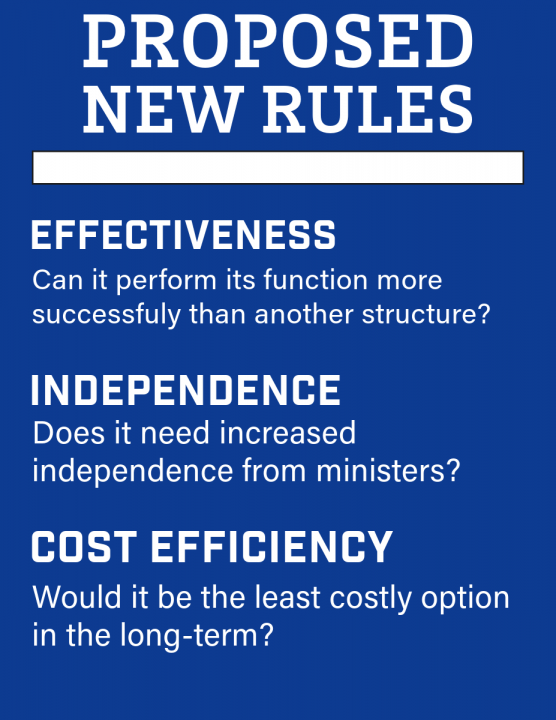 Through the report, the IfG has proposed three new tests, that would focus on allowing ministers to use bodies more flexibly. The current tests, focusing on impartiality, independence, and technical expertise would be replaced by the following:
Effectiveness: Establishing whether a public body could perform its function more successfully than another structure, whilst also questioning whether distinguishing it from the work of a government department would improve the effectiveness of overall government.

Independence: Does the function of the body require an increased level of independence from ministers, in comparison to what would be achievable within a government department?

Cost efficiency: Would the public body be the least costly option over the long-term or would the benefits that have been identified through other tests help to justify incremental costs over the transition or steady states.
According to the IfG report, titled When should public bodies exist? there are a variety of reasons why the government may set up new public bodies:
"These might include technical specialism; independent fact-finding; to make long-term decisions outlasting the political cycle; to depoliticise contentious decisions; or to show action following a scandal.
"However, setting up a public body is costly and may be considered for the wrong reasons, so ministers and civil servants are rightly expected to follow Cabinet Office guidance about when they should and should not do so. Yet that guidance is poorly calibrated to the needs and complexity of the modern state. It is summarised in the 'three tests', unchanging since 2010, of which all public bodies must meet at least one."
Image credit: iStock