The United Kingdom's mission to achieve net zero carbon emissions is one of the biggest challenges facing local authorities.
Whether it means completely reassessing the energy sources that we rely on to heat homes, ensuring that those homes are more efficient than ever before, or introducing new infrastructure to help power the cars of the future, the sector is focused on it all.
There are, however, a number of stumbling blocks that are being encountered by councils. Does this mean that the government's goal of achieving net zero by 2050 is at risk of failing already?
Money is integral to everything that the public sector does. With the majority of funding coming, in some way, from the taxpayer's pocket, it is imperative that finances are well controlled, however many councils around the country are coming under increasing pressure to make less funding go further.
Only last week the Local Government Association warned that an 'inflationary storm' is continuing to increase the gaps in funding for local authorities, with a £1 billion increase in the existing funding gap for the next two years appearing over the course of only a couple of months. When this is combined with the additional £15 billion that is being added to the cost of delivering council services since 2021/2022, and the increasing demand on services such as adults' social care, the situation is already looking precarious without having to factor in wider government goals like net zero.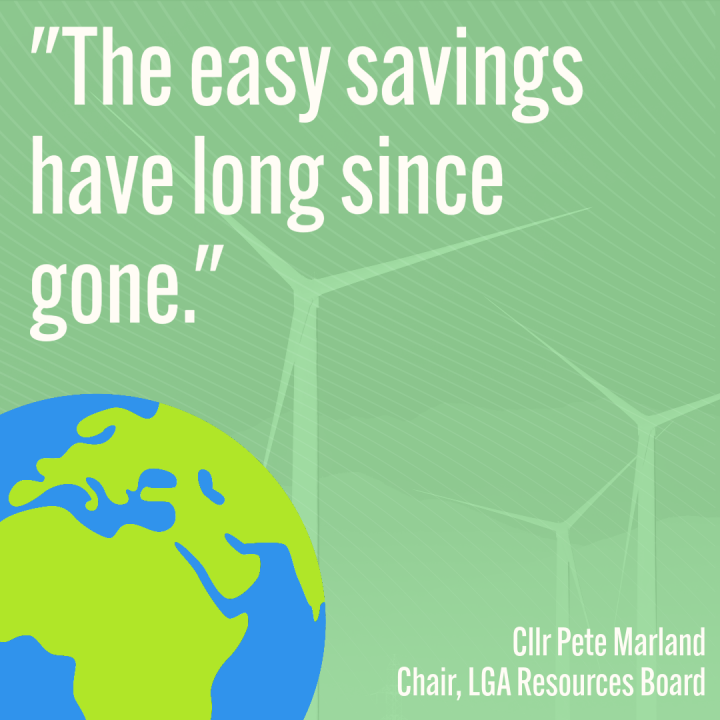 When talking about the increasing funding gap that is being faced by councils around the country, the Chair of the LGA's Resources Board, Cllr Pete Marland, said that "none are immune to the risk of running into financial difficulty and others have already warned of being unable to meet their legal duty to set a balanced budget and are close to issuing Section 114 notices."
Marland continued to say: "The easy savings have long since gone. Councils are being faced with tough decisions about cutting valued services, increasing council tax and fees and charges during a cost-of-living crisis.
"We urge the Chancellor to act to address the acute financial challenges faced by councils. This is vital to protect the local services our communities rely on every day but also to reduce costs falling on other public services and support the delivery of key government agendas on areas such as housing, levelling up and climate change."
Whilst councils are hoping that the government will announce some support measures for councils in next month's Autumn Statement, this still might affect the mission to achieve net zero. The government is already failing to provide core funding for local climate action, with this instead being provided through short-term pots that are competed for nationally.
Alongside this, local councils are also without a clear role in how they can help to delvier the government's net zero strategy. This has led to the Local Government Association, along with the District Councils Network and the County Councils Network, calling on the government to provide further support for local climate projects. The backing that the organisations wish to see from the government involves:
Establishing a national climate action framework that includes certainty around policy, regulation, and investment up until 2050. This would be complimented by milestones and a clear role for councils to play in leading local climate action.

Giving all councils adequate, stable core funding that will help them progress their own climate action, as well as multi-year place-based funding for local decarbonisation. This would also help with securing private investment in local climate projects.

Bringing in a local climate action test that would see all government policy and funding decisions supporting local climate action.
Speaking on this topic, County Council Network's Spokesperson for Climate Change, Cllr Sam Corcoran, said: "CCN members are providing leadership and working with a range of partners to deliver ambitious projects that focus on climate action. However, we must up the pace and act now if we are to drive the green agenda and meet our net zero targets. Our members know their areas best, and local solutions have been shown to provide better value for money and provide a wide range of benefits. We are therefore delighted to join forces with other local government bodies to call on the government to improve support for local climate action."
As local councils work hard to ensure that they are underway with the many facets of achieving net zero in their individual areas, much of this has been done by working to the deadlines and targets that the government gave them. This, however, changed slightly in September when the Prime Minister announced a number of changes to the government's green commitments.
One such change, that is likely to have a major impact on local government, is the decision to delay the ban on the sale of new petrol and diesel vehicles. The original ban was set to come into effect in 2030, however, this has now been pushed back by five years.
Many organisations were already on their way to introducing the major infrastructure that is necessary to support the widespread uptake in electric vehicles. Whilst a delay to the deadline does mean more time for councils to bring local infrastructure up to speed and secure the resources that are needed to do this, it does also have the potential to bring in further uncertainty. Is the Prime Minister going to move the date back again in the future? A general election is expected before the end of 2024; will a potential change in governing party affect these goals?
As councils continue their own work to achieve net zero, certainty and funding is much needed, if this doesn't come then local authorities may be forced to slow down their projects which could, in turn, put the decarbonisation of the public sector in jeopardy.
Image credit: iStock