The Department for Energy Security and Net Zero has confirmed that yesterday saw the first meeting of the Net Zero Council, as the government looks to support industry cut emissions and develop greener practices.
Some of the world's leading banks, technology companies, finance firms and energy suppliers are all part of the council, with leaders coming together to accelerate the transition to net zero across industry and business. This comes as the government is looking to utilise a depth of knowledge to achieve its goal of net zero carbon emissions, as well as growing the economy by developing ways for British business to benefit from the nation's leading position in renewable technology.
This important, world-leading position was discussed at the meeting of the council, alongside how important it is for one coherent voice to built up across government, finance and business. This will be done to aid the UK's most important sectors as they look to transition to net zero. Some of these key sectors include construction, manufacturing, retail and water, as well as the world class university, and research and development sectors that are based in the UK. These sectors give the nation the capability to build cutting-edge technologies that will help accelerate the mission to net zero, including green aviation, hydrogen, carbon capture, utilisation and storage (CCUS), and batteries.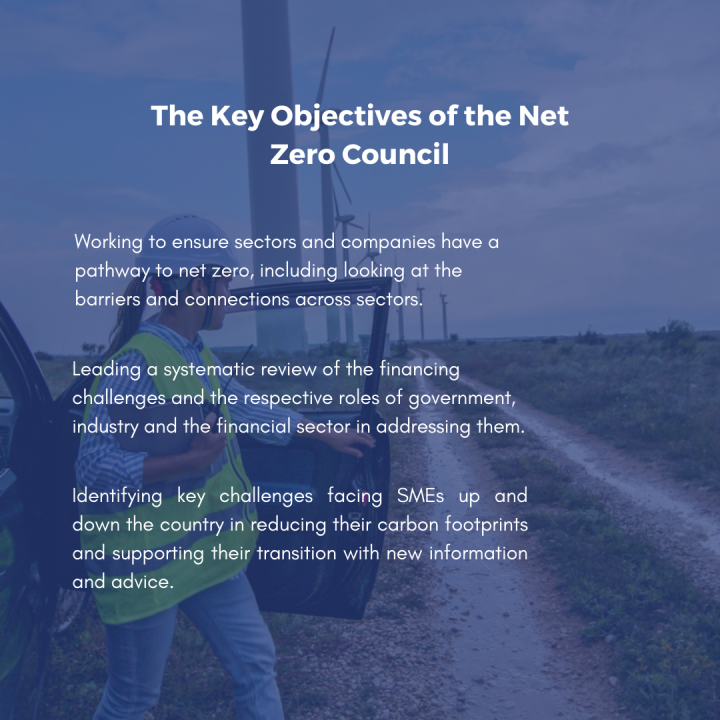 Graham Stuart, Energy Minister, said:
"The Net Zero Council provides the high-level forum for government, business and finance leaders to work together to unlock the opportunities of the green transition.
"Tackling emissions can make businesses more energy efficient, improve UK energy security and, in turn, cut costs. It can open up opportunities to export UK developed solutions around the world, expand UK market share and create jobs.
"The UK has cut its emissions more than any other major economy and the Net Zero Council – meeting today for the first time – will ensure that leaders of UK businesses can help guide government and vice versa so that our environmental leadership translates into economic advantage.
"The Net Zero Council includes some of the most senior business and finance leaders in the country, I am grateful that such extraordinary people are prepared to contribute their knowledge, experience and talent for the benefit of both this country and future generations."
The UK was estimated to have more than 400,000 jobs in low carbon business and related supply chains in 2020, with this providing a turnover of £41.6 billion. Thanks to government policies since 2020, there are now an additional 80,000 green jobs at least being supported in the UK.