The National Audit Office has announced the findings of a report into the condition of school buildings around the country.
More than a third (24,000) of school buildings in England have been found to be past their estimated initial design life and are now having a negative impact on pupil attainment and teacher retention. Despite usually being able to continue to be used after their design life, not only are they more expensive to maintain, but they also hold poorer energy efficiency leading to increased running costs.
Recent funding shortfalls across school estates have led to widespread deterioration, due to which the Department for Education has reported that it would take £7 billion of capital funding to repair and rebuild the school estate. This follows on from a 2020 DfE recommendation that it would take £5.3 billion to maintain, repair and rebuild estates and the subsequent allocation of an average £3.1 billion per year from HM Treasury to do so.
According to the report, the risk of a building collapsing or failing, resulting in death or injury has been judged as 'very likely' since the summer of 2021. This is mainly due to the use of reinforced autoclaved aerated concrete (RAAC) , which is prone to failure and used between the 1950s and mid-1990s. A school roof collapse had led to the Department for Education considering the risk that this kind of concrete poses in late 2018.
A separate report was also published by the NAO, this one looking into the environmental sustainability of the school estate. This particular report was looking into the ways that schools are focusing on improving school building conditions, whilst also building sustainability into the designs where possible.
The findings outline that the efforts of the Department for Education to make the school estate more sustainable, are being hindered by a lack of a clear, national picture on school sustainability, as well as risks that are being posed by climate change.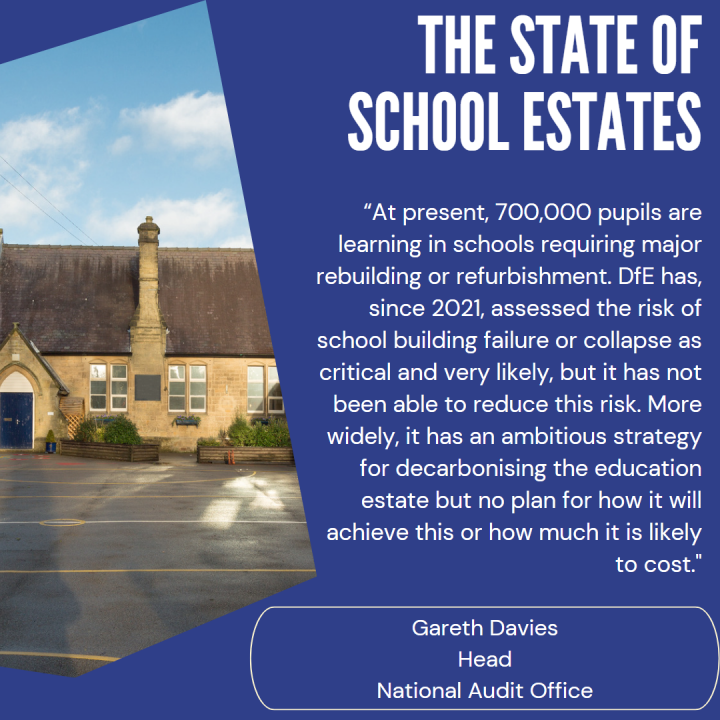 Gareth Davies, Head of the National Audit Office, said:
"At present, 700,000 pupils are learning in schools requiring major rebuilding or refurbishment. DfE has, since 2021, assessed the risk of school building failure or collapse as critical and very likely, but it has not been able to reduce this risk. More widely, it has an ambitious strategy for decarbonising the education estate but no plan for how it will achieve this or how much it is likely to cost.
"DfE is gathering some of the data it needs to effectively target its resources. It must now use this to improve its understanding of where schools are most at risk so it can balance addressing the most urgent risks while investing enough in maintenance, reducing carbon emissions, and climate change adaptation measures to achieve its objectives and secure longer-term value for money."
With the report into the condition of school buildings published, the National Audit Office has suggested that the Department for Education, whilst being supported by government, should determine when and how it plans to have dealt with the RAAC problem so that it can remove it as a critical risk to the safety of school buildings.
Image credit: iStock