The National Audit Office has released a new report into the funding that is being used for levelling up within local government, identifying failures in the way that the programme has been implemented.
According to the report, titled Levelling up funding to Local Government, projects to level up areas around the country are behind the schedule that the Department for Levelling Up, Housing and Communities expected, whilst they are also expected to fail to be completed by the deadlines that were originally set. Funding worth £9.5 billion has been allocated so far to local authorities, with the Towns Fund and Levelling Up Fund setting 1,143 projects going, however, 76 of them have not yet started.
National Audit Office Head, Gareth Davies, said:
"DLUHC is in a better position to understand the benefits these funds deliver following significant improvements in its approach to evaluation. But the department and local authorities will need to work together to unblock projects which are delayed or have not started and set realistic expectations for delivery.
"It is important that DLUHC shares the insights from its evaluation work with local decision-makers to help them achieve better value for money and reduce regional inequalities by improving the places people live."
With a decrease in the likelihood that the projects are going to meet the original deadlines that were set by the Levelling Up Department, the NAO found that half of the main construction contracts for projects to be delivered by March 2024 were unsigned, whilst 85% of the projects to be delivered by March 2025 remained unsigned.
One reason for this, identified in the report, was that funding has been allocated through three different streams, with overlapping themes. This led to local authorities having issues in aligning their plans to ensure that the most value is found through the funding. Inflation, skills shortages and construction supply challenges are other reasons for delays, whilst delays in the decisions being made by the Levelling Up Department have led to projects falling behind schedule. An example of this can be seen through the UK Shared Prosperity Fund, which was launched in April 2022. The deadline for local authorities to submit their plans was August 2022, however, the Department did not approve projects until December 2022, which meant that authorities were required to spend their 2022-23 allocation in a period of only three months.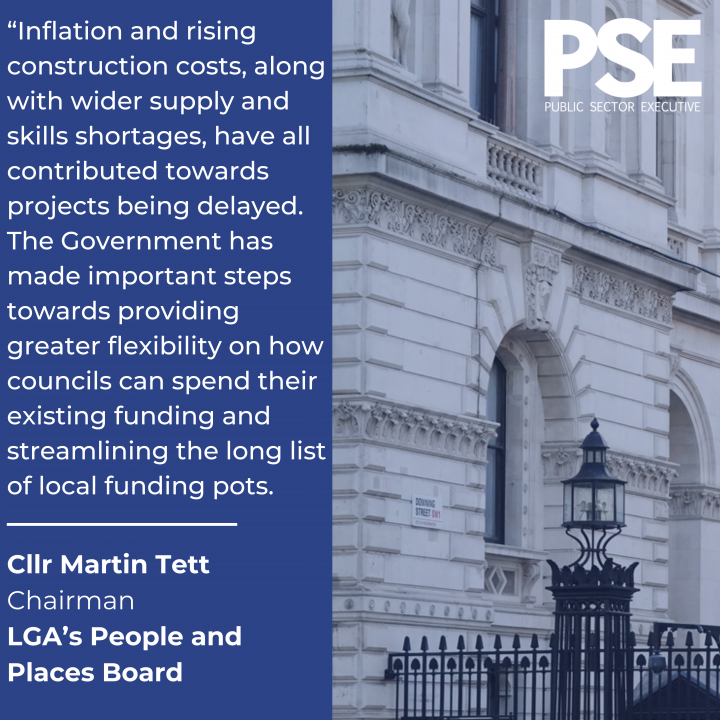 In response to the report Cllr Martin Tett, Chairman of the Local Government Association's People and Places Board, commented:
"Levelling up has great potential to transform people's lives and livelihoods, with councils best placed to make this happen.
"Inflation and rising construction costs, along with wider supply and skills shortages, have all contributed towards projects being delayed. The Government has made important steps towards providing greater flexibility on how councils can spend their existing funding and streamlining the long list of local funding pots.
"We want to see a greater push towards place-based investment and the continued move away from the competitive allocation of short-term funding pots. We look forward to the next round of the Levelling Up Fund as evidence of the Government's progress in this area and continue to call for councils to be given the opportunity to realise the benefits of joined-up funding, to be made available to every part of the country."
Image credit: iStock