The Ministry of Defence has announced that the first of three hydrogen-fuelled charging facilities have been launched by the Defence Support organisation.
Powering Front-Line Command electric fleet vehicles, the programme will begin with trials at RAF Leeming, as well as at Her Majesty's Naval Base DEVONPORT and the Army's Colchester-based Merville Barracks.  This project marks an important step in the transition to a zero-emission fleet by the end of December 2027, with hydrogen being used as an energy source as part of the new opportunities and approaches that can be presented by new technology, as well as providing an operational advantage.
The trial is being delivered as part of the Sustainable Road Transport programme, with this focusing on the use of hydrogen as a fuel. Through this, the Defence Support organisation will consider further options for the use of electric vehicles and fully hydrogen-powered vehicles.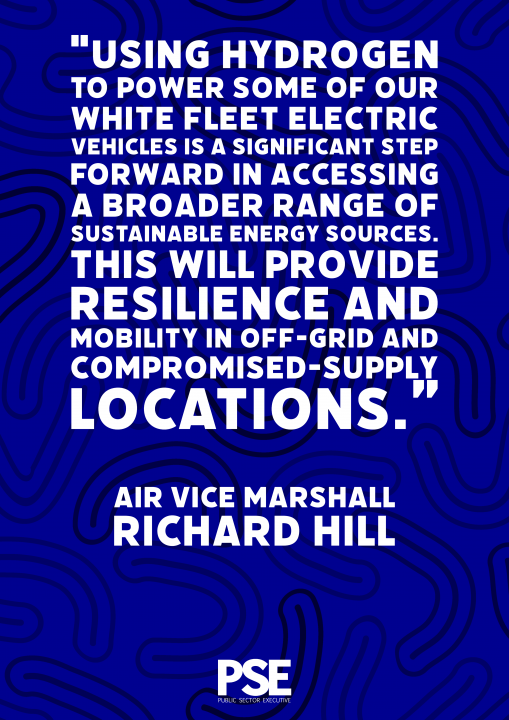 Director Defence Support Major Programmes, Air Vice Marshall Richard Hill, said:
"Working with the Defence Infrastructure Organisation (DIO), and the three Services, this trial will further our understanding of hydrogen's place in Defence's future energy mix.  Using hydrogen to power some of our white fleet electric vehicles is a significant step forward in accessing a broader range of sustainable energy sources.  This will provide resilience and mobility in off-grid and compromised-supply locations."
As part of Strategic Command, the Defence Support organisation is focusing on delivering the energy infrastructure that is required for Defence.
Group Captain Gareth Prendergast, RAF Leeming Station Commander, added:
"It is fantastic to be part of the Defence Support programme exploring the use of hydrogen and how it may support Defence capabilities in the future. The GeoPura system allows us to demonstrate the concept here at RAF Leeming and understand how it can increase resiliency on our bases and influence operations at home and overseas."
Image credit: iStock