Thanks to a programme of funding from the Scottish Government, additional school buildings are to benefit from modern, state of the art facilities.
As part of the third round of the Learning Estate Investment Programme, worth £450-500 million, ten local authorities have been awarded funding that will contribute towards school facility upgrades. The fund is worth £2 billion overall and comes as part of a joint programme with COSLA that follows the £1.8 billion Scotland's Schools for the Future Programme.
Jenny Gilruth, Education Secretary, said:
"I am determined to deliver excellence and equity across Scotland's schools, and ensuring that pupils are educated in modern, state of the art facilities is an important part of that.
"This latest phase of the £2 billion Learning Estate Investment Programme will continue to support local authorities to deliver improvements in our school estate and ensures continued progress in ASN provision in particular. This latest round of investment means that every Scottish local authority which submitted a bid has now received funding for a project in Phases 1, 2 or 3 [of] the Learning Estate Investment Programme.
"As a direct result of Scottish Government investment, the proportion of schools in 'good' or 'satisfactory' condition has increased from 61% in April 2007 to 90.7% in April 2023 and this investment will build on this remarkable progress. We will continue working with COSLA to explore how we can delvier further improvements in the school estate, as well as ensuring provision in those areas experiencing population growth."
Three of the projects that have been awarded funding are providing support for Additional Support Needs (ASN) schools, whilst six of the projects will include ASN capacity. The projects that have been awarded funding are:
Aberdeen City Council: Hazlehead Academy

Argyll and Bute Council: Mull Campus

Clackmannanshire Council: Lochies ASN School

East Dumbartonshire Council: Lenzie Academy

Falkirk Council: Carrongrange ASN School Extension

Moray Council: Forres Academy

North Lanarkshire Council: Chryston High School Extension

Orkney Council: Kirkwall ASN Centre

Shetland Council: Brae Campus

West Lothian Council: Riverside and Letham Primary School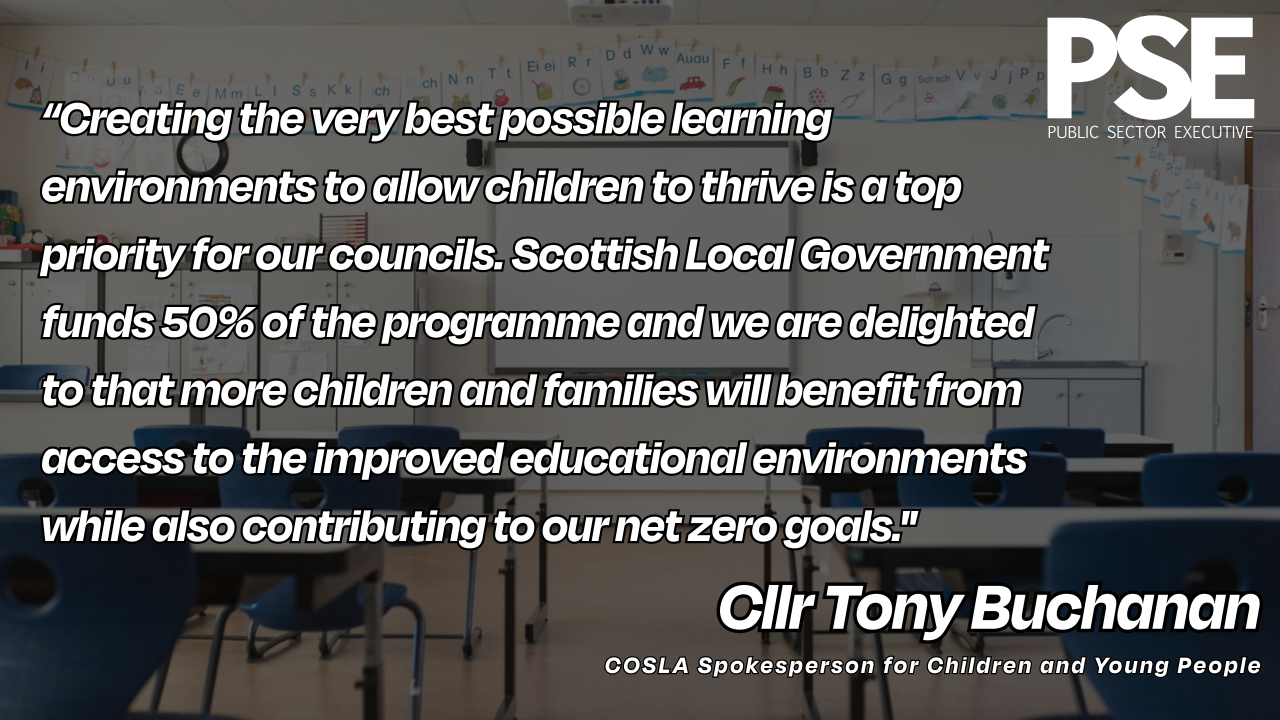 COSLA's Spokesperson for Children and Young People, Cllr Tony Buchanan, added:
"We welcome today's announcement of the projects which will benefit from phase three of this joint Learning Estate Investment Programme.
"Creating the very best possible learning environments to allow children to thrive is a top priority for our councils. Scottish Local Government funds 50% of the programme and we are delighted to that more children and families will benefit from access to the improved educational environments while also contributing to our net zero goals.
"These council led projects really demonstrate the innovation from Local Government and partners that makes positive change a reality in people's lives."
Image credit: iStock