Digital connectivity in communities around the United Kingdom is to be boosted by new funding to help with the adoption of advanced wireless technology.
Ten multi-local authority areas are to be allocated a share of £36 million worth of funding to become 5G Innovation Regions. This will help to develop and adopt 5G and other advanced wireless technologies, ensuring that communities are able to take advantage of the benefits that this connectivity can bring, including the attraction of commercial investment and economic growth.
The government's Wireless Infrastructure Strategy is supported by the 5G Innovation Region's programme, with sectors covering advanced manufacturing, transport, agriculture, creative industries, and public services benefitting from improved innovation. It is hoped that this will stimulate the demand for 5G connectivity and potentially delivering £159 billion in productivity benefits by 2035.
Sir John Whittingdale, Minister of Data and Digital Infrastructure, said:
"We're channelling millions into local areas to unlock the potential of cutting-edge 5G wireless and digital technologies which will reshape our public services, drive economic growth, and boost innovation. This new funding will give local areas from across the country the opportunity to be at the forefront of Britain's world-leading 5G revolution.
"For instance, by using 5g for farming and creating science parks, we're not just helping local communities, but also encouraging new ideas all over the UK. This is more than just linking smartphones. It's about using powerful digital connections to transform various sectors in the economy and the public sector throughout the entire country."
Greater Manchester Combined Authority is one of the regions that is set to benefit, with £3 million being allocated to deliver a project to enable hundreds of air source heat pumps in social housing through 5G. This will help to accelerate the creation of Smart Energy Grids, furthering benefits for residents, industry, and public services.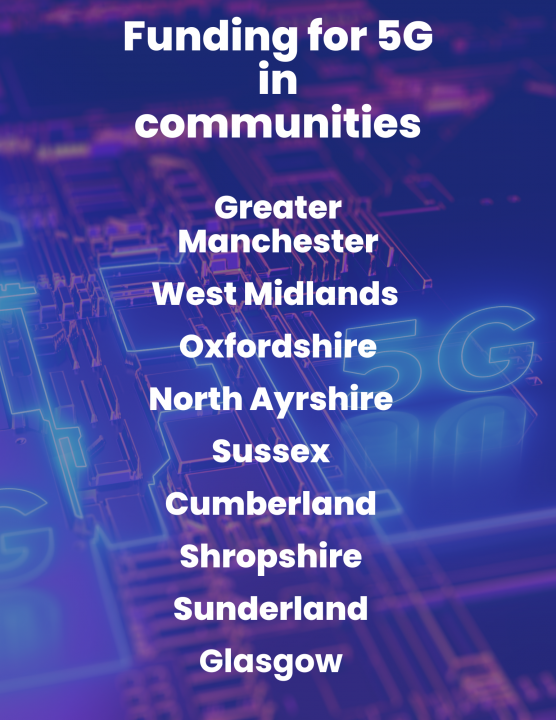 The other nine projects that are to receive funding are:
Belfast City Council

West Midlands Combined Authority

Oxfordshire County Council

North Ayrshire Council

Sussex County Council

Cumberland Council

Shropshire Council

Sunderland City Council

Glasgow City Council
UK Government minister for Scotland, John Lamont, added:
"The UK government is committed to ensuring the potential of 5G is felt across the UK and I am delighted that Glasgow City Council, North Ayrshire Council, and the Borderlands Region will, between them, receive almost £11 million to help with this.
"Scotland has a history of being at the forefront of innovation and technology and this funding will make sure this remains the case. All the areas will use this technology to help people's lives, Glasgow through improving the monitoring of health and social care services, North Ayrshire will accelerate the adoption of digital and wireless technologies and the Borderlands Region will help increase tourism."
The Department for Science, Innovation and Technology has stated that connectivity improvements brought about by 5G and advanced wireless technology could be transformative for communities, with this helping to not only improve connections for residents and business, but also boosting local economies and improving the way that public services are delivered.
Image credit: iStock