A new study released by homelessness charity, Crisis and led by Heriot-Watt University has highlighted the cost pressures currently facing local authorities as they tackle the crisis.
The research found that 290,000 eligible households sought help from local authorities since the end of the pandemic in 2021 whilst those who were judged as 'at risk' of homelessness within 56 days of seeking help, increased by 10% last year.
However, one of the staggering 88% of local councils surveyed said they had seen an increase in requests for support from people evicted from the private rental sector with 93% of respondents believing that will increase in 2023.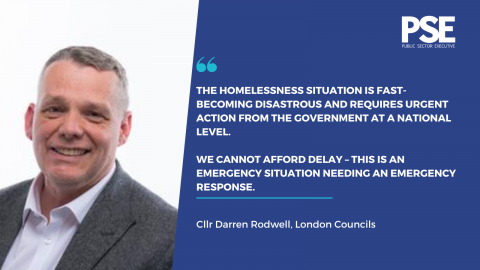 The overall picture wasn't much better with 85% of councils reporting an increases in people experiencing homelessness.
One of the areas where the issue is most acute is London, with London Council's own research suggesting one in fifty Londoners living in temporary accommodation arranged by their local borough.
Cllr Darren Rodwell, London Councils' executive member for regeneration, housing and planning said:  "The homelessness situation is fast-becoming disastrous and requires urgent action from the government at a national level.
"Ministers must work with councils and other partners across the housing and homelessness sectors to reverse these trends. There are at least 143,000 potential new homes we could begin building immediately in London if the government addressed the barriers to delivery, including by providing additional infrastructure and affordable housing grant funding.
"We cannot afford delay – this is an emergency situation needing an emergency response."
The strain on the finances in the capital with tackling the rising numbers of homelessness in the capital is costing boroughs collectively, £60 million a month on temporary accommodation costs. Last year, a study by housing charity, Shelter showed that councils across the U.K spent £1.6 billion last year, an increase of 61% compared to five years previous.
London Councils, in response to the Crisis study is urging the government to address the issue with a five point action plan including, raising the local housing allowance to cover at least 30% of local market rents, supporting councils to buy accommodation sold by private landlords and increasing discretionary housing payments which have been frozen for two years.
Photo Credit: IStock