The government has announced that a share of funding will be available for local authorities, as they look to improve local air quality.
A share of £6 million will be allocated to local authorities with plans to deliver air quality projects, through the annual Air Quality Grant. This will help to bring air improvement measures that will benefit schools, businesses and the wider communities as air pollution impacts are tackled.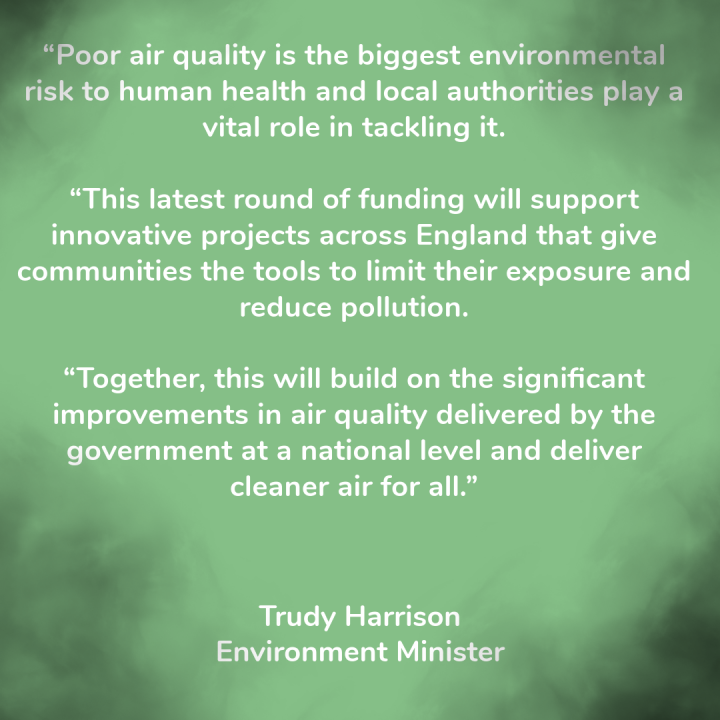 Since the fund was established in 2010, the government has awarded over £53 million to more than 500 such projects around the country.
There is a list of goals that will be used to help prioritise which projects will be given funding, with these including:
Tackling particulate matter

Improving the public's awareness of the impacts of air pollution

Helping local authorities to bring down the levels of nitrogen oxide and other pollutants.
Environment Minister Trudy Harrison said:
"Poor air quality is the biggest environmental risk to human health and local authorities play a vital role in tackling it.
"This latest round of funding will support innovative projects across England that give communities the tools to limit their exposure and reduce pollution.
"Together, this will build on the significant improvements in air quality delivered by the government at a national level and deliver cleaner air for all."
The quality of the air in the UK has improved significantly over recent decades. This has seen a 10% reduction in the levels of fine particulate matter since 2010. Further reduction of this is a government commitment, with the Environment Act setting legally binding targets to reduce particulate matter levels by 2040.
Examples of previously funded initiatives include:
A programme to raise awareness over air quality to students in Cornwall.

An e-cargo bike library in Norfolk, helping local businesses to lower their emissions and reduce operating costs.

Healthcare professionals in Southampton being trained to advise patients on how they can cut their exposure to air pollution.
Neil O'Brien, Health Minister, also added:
"Air pollution poses health risks, particularly for older people, children, and people with heart or lung conditions which is why we're committed to making our air cleaner.
"This year's fund builds on the significant action we're already taking to improve air quality, and I urge local authorities across England to bid for funding to improve the health of people living in their areas."
Image credit: iStock