The Liverpool City Region Combined Authority is partnering with Lloyds Bank and Vodafone to give free tablets, internet access, and training to 4,500 people across the city region.
The scheme is part of the Digital Inclusion Initiative, an industry-led programme committed to bridging the digital divide by driving digital skills, enhancing lives through better digital connectivity, and stimulating economic growth across the UK.
Participants in the scheme will receive a free android tablet, along with in-person training on getting the most out of the internet, and six months of free data.
The pilot will start with 300 local people who are unemployed or economically inactive. People will be referred on to the initial pilot from the Department of Work and Pensions Restart Scheme and the Ways to Work programme run by the six local authorities.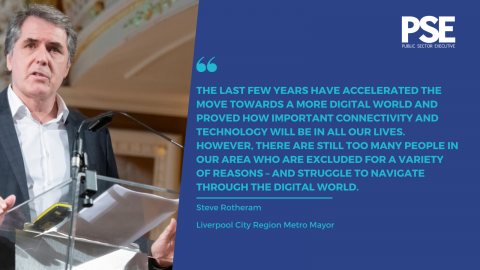 Over the next year, 4,750 tablets, training and mobile internet access will be provided to people who are digitally excluded across the city region. The initiative will work with partners across the community and voluntary sector, local authorities and other members of the recently launched Digital Inclusion Network – including Households into Work and Housing First – to provide this support to those in need.
Recently published analysis by the University of Liverpool's Heseltine Institute estimated that 324,590 LCR working age residents are limited or non-users of the internet, whilst 30,560 households with school age children are offline or headed by limited users.
Nationally, the Liverpool City Region is above the average with 28% lacking digital skills. The Lloyds Banking Group's 2022 Essential Digital Skills report found that one-fifth (20%) of UK adults lack digital skills.
Steve Rotheram, Mayor of the Liverpool City Region, said: "Since I was elected Mayor, I've been on a mission to make our region the most digitally connected anywhere in the country.
"The last few years have accelerated the move towards a more digital world and proved how important connectivity and technology will be in all our lives. However, there are still too many people in our area who are excluded for a variety of reasons – and struggle to navigate through the digital world.
"It's our duty to properly connect our residents up with this 21st century necessity and schemes like this will help us to directly target those who are most in need of our support. We're creating what I hope will be a better-connected future that everyone in our region can benefit from – it's proper levelling up in action."
The Digital Inclusion Initiative is a five-year programme by a coalition of partners as an industry-led powerhouse, driving digital skills, improved lives and economic growth, that aims to improve digital access and capability across the UK.
The Liverpool City Region is one of the first areas in the UK to receive funding from the Digital Inclusion Initiative.
Photo Credit: Istock