The Local Government Association has demanded a task force to be put into place to ensure the safety of pupils in wake of the news of imminent school closures because of reinforced autoclaved aerated concrete (RAAC).
The government published new guidance yesterday (Thursday 31 August) for schools with RAAC present, instructing them to close until mitigations have been put in place. So far, this will affect over 100 education settings, with 52 of them identified as 'critical'.
A report in June by The National Audit Office however assessed that 572 schools had been identified as having RAAC present within its structures.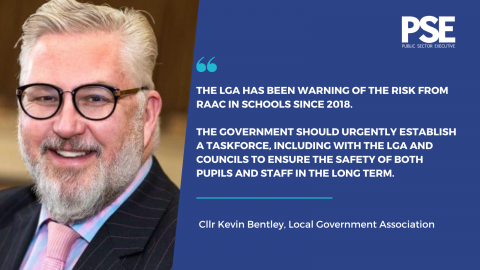 Cllr Kevin Bentley, senior vice-chairman of the Local Government Association (LGA), said: "Leaving this announcement until near the end of the summer holidays, rather than at the beginning, has left schools and councils with very little time to make urgent rearrangements and minimise disruption to classroom learning.
"The LGA has been warning of the risk from RAAC in schools since 2018. The Government should urgently establish a taskforce, including with the LGA and councils to ensure the safety of both pupils and staff in the long term."
The government has been criticised on the timing of the announcement along with questions on how councils and trusts are to fund the replacement of any RAAC within affected schools. In a statement, the Department for Education (DofE) confirmed it would provide funding for essential immediate works.
In it's response, the LGA's Kevin Bentley believed this was not enough.
"Councils will be supporting schools in their areas who have had to close affected buildings, including by providing alternative spaces. The Government should also provide councils with the necessary funding and technical expertise to repair or replace those buildings with RAAC.
"The Government also needs to provide councils with financial support where they are supporting other schools, such as academies and faith schools, which have had to close buildings due to the presence of RAAC."
Continued support past immediate financial help will be made available through capital funding each year along with the school rebuilding programme, the DofE confirmed. The school rebuilding programme has according to the DofE, seen £15 billion invested since 2015 on school safety.
The LGA has however demanded that a single funding pot for councils be set up.
"We call for a single, local funding pot to replace the existing fragmented system for school capital projects and for this to sit with councils, who should have the power to determine how and where this is best spent in their local areas."
Photo: Istock