The Local Government Association has announced that UK local road repair spending has been reduced more than nearly all of the other nations in the Organisation for Economic Cooperation and Development.
Following analysis from the LGA, the organisation has stated that it wishes to collaborate with the government to establish a devolved, long-term plan for local road maintenance, with this including increased, consistent funding. Currently, the government is spending approximately 31 times more money per mile on motorway maintenance, than it is on local roads and the LGA is using the next General Election as a reason to call on members of all political parties to commit to a 10-year programme of local transport infrastructure funding. This funding would be supported by the devolution of the equivalent of 2p existing fuel duty, helping councils to reverse poor road conditions and stopping residents from paying for the more expensive road repairs. This would then allow work to continue on the reduction of air pollution and the move to a low carbon economy.
Implementing this idea would, according to the LGA, require local councils to be given full power over local transport infrastructure.
LGA Chair Cllr Shaun Davies said:
"The UK has fallen from the top to almost the bottom of the league, when it comes to the amount we spend on repairing our local roads.
"Decades of reductions in funding from central government to local road repair budgets has left councils facing the biggest ever annual pothole repair backlog.
"Positive extra funding in the recent Budget will help, but councils still face considerable challenges when trying to get on top of this pothole blight.
"In order to support motorists, the Government should take this opportunity to work with councils to develop a long-term, fully funded programme to catch up with the backlog. Ultimately, all local transport decisions should be devolved to councils, who are best placed in determining what is a priority for their areas.
"This will allow councils not just to tackle potholes but make improvements to road surfaces, saving money in the long term and improving our roads for everyone who uses them.
"As well as this, we would urge all parties to commit to invest in our local road network at the next general election, which is so important to our residents and our business community."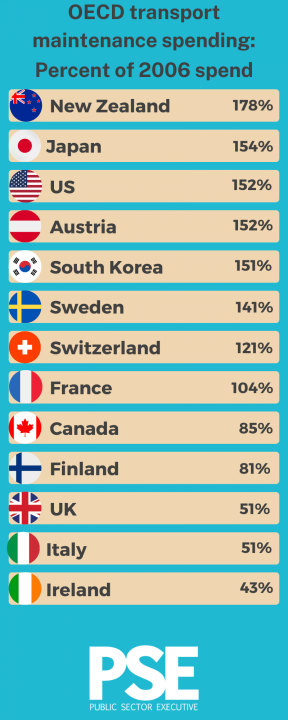 According to figures from the Organisation for Economic Cooperation and Development (OECD), twice as much (£4 billion) was spent by the UK on local road maintenance in 2006 when compared with the same funding from 2019 (£2 billion). In comparison with this Sweden, Denmark, Japan, New Zealand and the US have increased their spending by approximately half over the course of the same time frame, whilst France, Finland and Canada have continued to protect their road repair budgets better. Regarding decreases in the spending on local road maintenance, only Italy and Ireland show similarities with the UK.
Further funding was announced in the 2023 Budget, however, estimates from the ALARM survey have identified a record £14 billion road repair backlog for councils, which would take 11 years to tackle if the government do not provide increased support.