Leeds City Council has agreed on nine new "big ideas" to deliver inclusive growth in the city, focusing on people, place, and productivity. The new strategy, which covers the period 2023-2030, aims to tackle challenges facing Leeds and meet the council's Best City Ambitions, including tackling poverty and inequality, poor health, and meeting zero carbon commitments.
The strategy is underpinned by the following key themes:
People: The strategy aims to tackle poverty and inequality, support the rapidly changing labor market, and ensure that education and training meets local needs.

Place: The strategy will invest in places and transport to deliver a sustainable economy and greener future. This includes connecting and strengthening communities by ensuring that city and local centres thrive, and that jobs and homes are delivered in the right place.

Productivity: The strategy will unlock productivity and enable businesses to innovate and grow in the face of change. This includes backing diverse innovators and entrepreneurs, and investing in the city's innovation infrastructure, such as the Innovation Arc.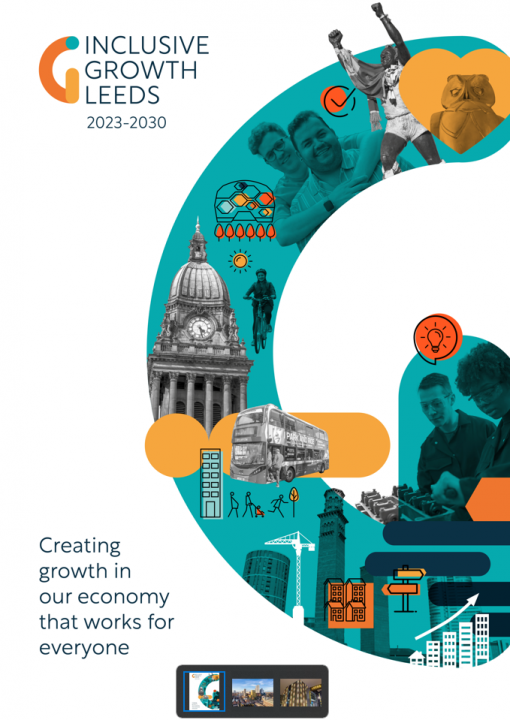 The strategy also includes a number of specific initiatives, such as:
Business Anchors Network: This network will bring together large businesses operating in Leeds to work together to create growth in the economy that works for everyone.

South Leeds Gateway: This project will connect hospital, health, and life science assets at St James University Hospital and Leeds General Infirmary through the city centre to Morley, with a linked pipeline of projects worth over £2 billion and commitments for over 15,000 new homes.

Digital City: The strategy will position Leeds as a digital city and facilitate growth in the sector by developing the required infrastructure and talent
Speaking ahead of the strategy's launch Councillor James Lewis, Leader of Leeds City Council, said,
"Developing an economy that works for all is crucial to ensuring we can meet the challenges facing Leeds, from tackling poverty and inequality, to meeting the climate emergency.
"Success will require a collective effort from the public, private and third sectors in Leeds working together .I firmly believe in the power of collaboration as shown by our response to the Covid-19 and the cost-of-living crises, which highlights the impact of our 'Team Leeds' approach.
"The Leeds Inclusive Growth Strategy and its nine 'big ideas' will reduce inequality in our city and help to ensure Leeds is a compassionate city with a strong economy that provides opportunities for all, while also playing our part in meeting the climate emergency."
You can read the report in full here:
Photo Credit: iStock