Leeds City Council has announced that a new Children's Mayor of Leeds has been appointed, following a record turnout.
10-year-old Mohammed Hussein was announced as the 20th children's mayor by Lord Mayor Al Garthwaite, after the youngster spent much of the summer campaigning to 11,000 local children. With a manifesto that focused on climate change, Mohammed beat eleven other children from across Leeds with the role now seeing him invited to speak at an upcoming full council meeting on how the council can support him to bring his manifesto into reality.
As a representative of the children of Leeds, Mohammed will stay in the role for a year, with his duties including attending the Remembrance Sunday Parade, as well as appearing on stage at the Child Friendly Leeds Live event in Millennium Square.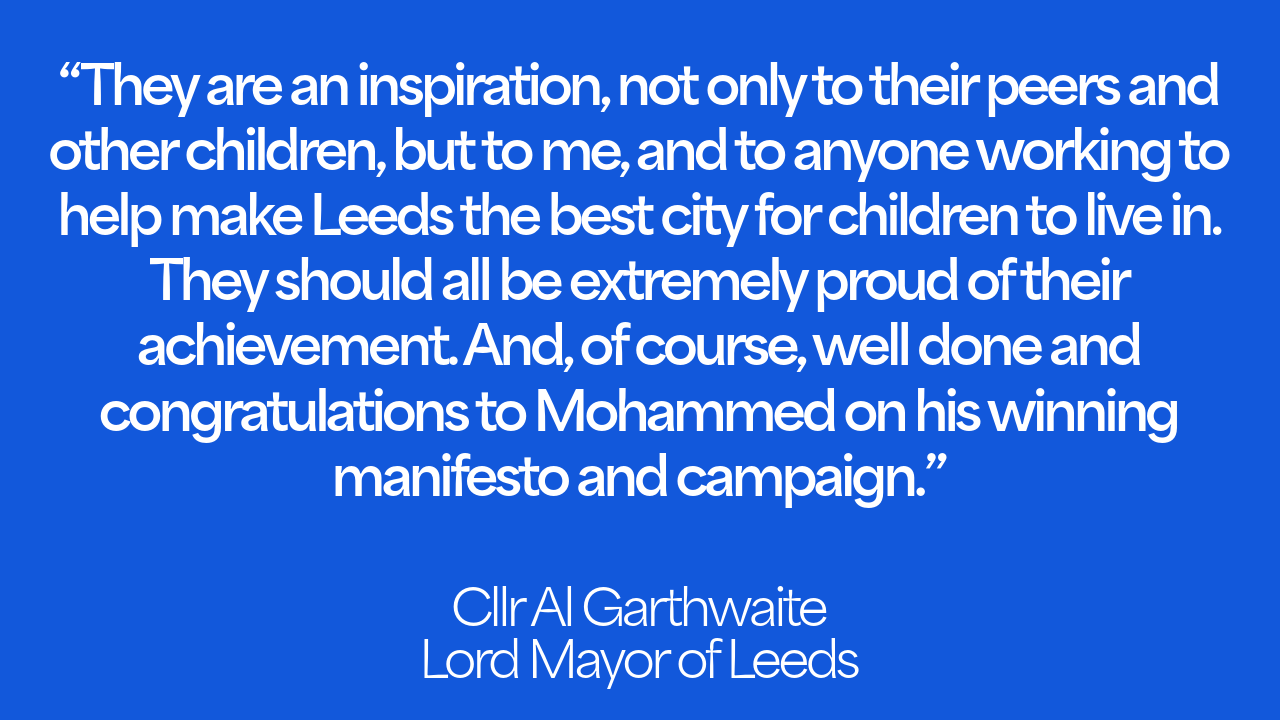 Councillor al Garthwaite, Lord Mayor of Leeds, said:
"I'm overwhelmed and thrilled by the record number of children who have been involved with electing the new children's mayor of Leeds, including those who were nominated and all 12 final candidates.
"They are an inspiration, not only to their peers and other children, but to me, and to anyone working to help make Leeds the best city for children to live in. They should all be extremely proud of their achievement. And, of course, well done and congratulations to Mohammed on his winning manifesto and campaign."
 The Children's Mayor programme aims to give children and young people an understanding of democracy and voting, whilst also encouraging the role that they can play within their communities. The programme also compliments the council's wider vision of creating a Child Friendly Leeds that helps every young person to feel that they have a voice.
Executive Member for Children's Social Care and Health Partnerships, Cllr Fiona Venna, added:
"Congratulations to Mohammed on being elected as the new children's mayor of Leeds. His winning manifesto focusing on the theme of tackling climate change and is truly inspiring.
 "Giving our children and young people a voice is so important, and the children's mayor programme has continued to do this over the last 20 years, providing fantastic opportunities for them to have their say and help make a difference to their city and communities."
Image credit: iStock