The Department for Science, Innovation and Technology has announced that the first meeting of the DSIT Start-Up board took place yesterday, with some of the UK's best and brightest science and technology minds discussing how the nation can become a leader in the sector.
One of the main points on the agenda was to continue development on the government's regulatory policy on artificial intelligence. On this topic, the board discussed how the Department for Science, Innovation and Technology can help to achieve the Prime Minister's ambitions of leading AI policy at home, and abroad. Alongside this discussion, it was considered how the government can approach deploying revolutionary AI tech across different sectors to help with the improvement productivity and unlock growth. This includes the public sector.
Analysis and insight were also on the agenda for the board, with members exploring how DSIT can improve the way that they are used to deliver better outcomes for the public, as well as the science and technology ecosystems in the UK.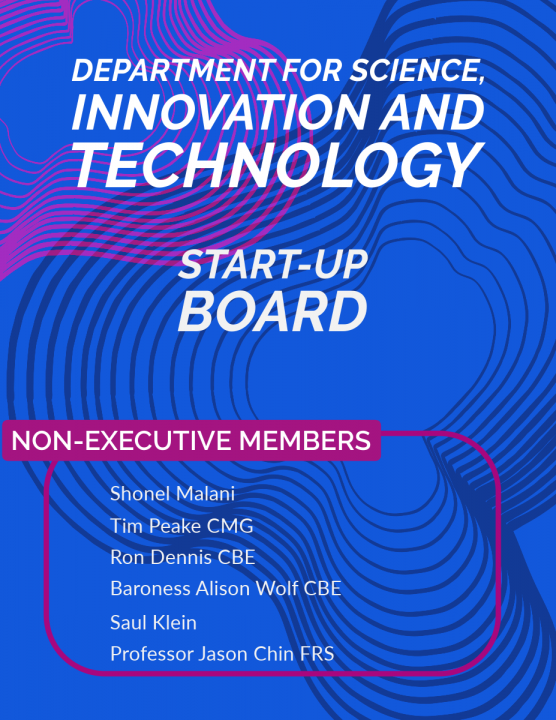 The seven non-executive members that took part in the meeting are:
Shonnel Malani

Tim Peake CMG

Ron Dennis CBE

Baroness Alison Wolf CBE

Melissa Di Donato

Saul Klein

Professor Jason Chin FRS
Speaking about the launch of the board, Science and Technology Secretary Michelle Donelan said:
"I want to get the best and brightest minds from the worlds of science and technology at the heart of our decision-making in government at every level, from our policy teams all the way up to the Board, so that we are laser-focused on cementing the UK's place as a science and technology superpower. The success of this department will be instrumental in delivering long-term economic growth, one of the Prime Minister's priorities.
"The quality of these appointees speaks volumes about how seriously this government is taking policy delivery and successful collaboration in new innovative areas with the private and public sectors. This is a group of genuine pioneers and leaders, who will guide the Department with a level of knowledge and expertise the rest of the world will follow."
Former astronaut Tim Peake CMG, also commented at the launch, saying:
"I'm very excited to be joining the board and helping support the UK in becoming a global leader in science and technology.
"As a former test pilot and astronaut, who has taken part in more than 250 scientific experiments for the European Space Agency and international partners, I hope to bring a wealth of experience of how science, technology and innovation are critical to both learning and development.
"This is part of my mission to inspire the next generation of science and technology professionals as the UK ramps up its ambitions to compete on a global stage."
Image credit: iStock