The Department for Transport has announced that it is committing significant funding to the development of cycling and walking schemes that will continue to promote healthy travel, emission reduction and the growth of the economy.
The government entered into consultation with local authorities around the country, with the outcome seeing 265 schemes in 60 areas benefitting from funding. Areas that will receive funds include Yorkshire, Manchester, Devon, and Leicester.
Funding worth £200 million is being allocated as local authorities look to transform the school run for tens of thousands of children, with up to 16 million extra walking and cycling trips every year. This will not only give health benefits for communities, but also easing congestion across cities and providing benefits to the environment.
Mark Harper, Transport Secretary, said:
"We want to make sure everyone across the country can choose cheaper, greener, and healthier travel while we continue to support our local businesses and grow the economy.
"This £200 million investment will improve road safety, ease congestion and ultimately improve the health and wellbeing of the millions of people choosing active travel."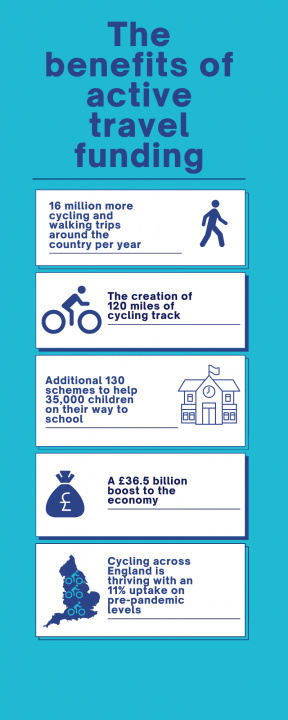 Through the investment, a range of schemes are to be delivered around the country. These range from the development of 121 miles of new cycle track, and 77 miles of new paths and greenways to initiatives that will help to make the streets around 130 schools safer.
The knock-on effects of all of these schemes are increased high-street spending and improved access to employment, which is estimated to bring an economy boost of £36.5 billion.
Chris Boardman, National Active Travel Commissioner, added:
"By giving millions of people the freedom of choice to walks, wheel or cycle for everyday trips, this funding will help us improve public health, tackle climate change, and give hundreds of thousands of children the independence to travel safely under their own steam.
"Now our focus is working with councils to get these schemes built swiftly. We'll be working together to ensure the projects are well-designed and effective, so that they bring maximum benefits to communities and help improve lives nationwide."