Hounslow Council is continuing work to improve air quality in the area, thanks to a partnership with a community support group.
With Hounslow Borough Respiratory Support Group successfully applying for the installation of a new Breathe London Air Quality sensor, health and environmental outcomes are being improved. This brings up to date information about the quality of the air in the centre of Hounslow and allows residents to check the levels of pollutants in the air, to the benefit of those with respiratory conditions.
Roger Smith, Chair of the Trustees for the Hounslow Borough Respiratory Support Group, added:
 "The group is delighted to have successfully bid for a sensor which will provide an opportunity to help raise awareness on air quality issues for the benefit of Hounslow residents and visitors."
"We could not have achieved our goal without the collaboration of the Council, who made recommendations on where the sensor could be situated. Many thanks, London Borough of Hounslow Council for your support and guidance."
Alongside the air quality sensor, the council is utilising its own measures to monitor and control the air quality in the borough. This is done through air quality stations, as well as a network of more than 200 diffusion tubes.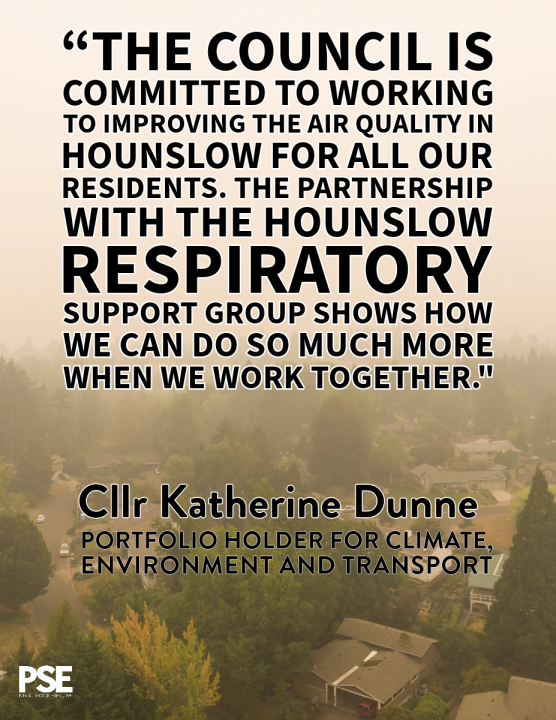 Portfolio Holder for Climate, Environment and Transport, Cllr Katherine Dunne, said:
 "There is no doubt that these air quality sensors provide information that is vital for the well-being of our community. By providing us with real-time information about the air we breathe they allow us to make informed decisions about our health, our children's health, and our environment.
"The Council is committed to working to improving the air quality in Hounslow for all our residents. The partnership with the Hounslow Respiratory Support Group shows how we can do so much more when we work together.
"We would like to thank all the members of the group for their dedication and congratulate them on their success in getting this new sensor installed. It will benefit everyone in our borough."