The Home Secretary, Suella Braverman, has commissioned a review into activism and impartiality in the police. The review will be conducted by His Majesty's Inspectorate of Constabulary and Fire & Rescue Services (HMICFRS) and will examine the extent to which police involvement in political matters is impacting on the effectiveness, efficiency, and legitimacy of policing.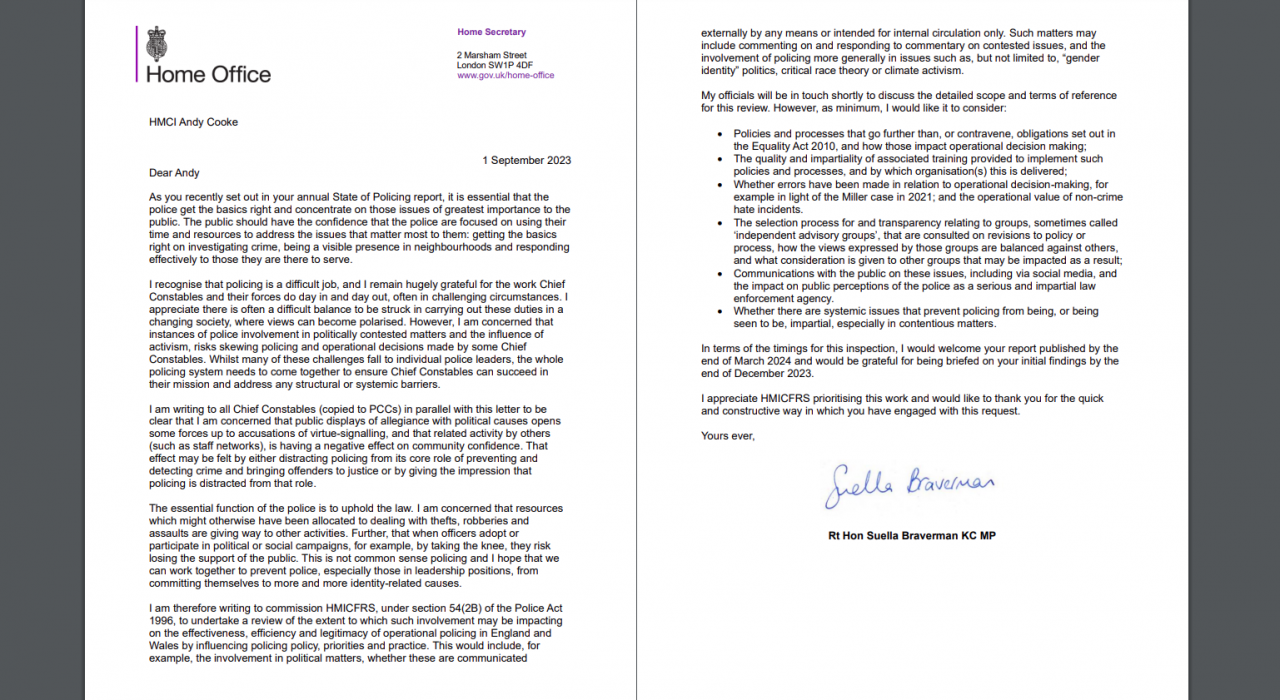 In a letter to policing leaders, Braverman set out her expectation that the police should focus on tackling crime, rather than being involved in political matters, and her intention to continue working with policing leaders to ensure that forces' time is always spent on the public's priorities.
The HMICFRS review will cover the following areas:
Policies and processes that go further than, or contravene, obligations set out in the Equality Act 2010, and how those impact operational decision making.

The quality and neutrality of associated training provided to implement such policies and processes.

The selection process for groups that are consulted on revisions to policy or process, how decisions are made on which policies and processes are selected for amendment, how the views expressed by those groups are balanced against others, and what consideration is given to other groups that may be impacted as a result.

The involvement of staff networks in the development of policies and processes, the use of police resources and time dedicated to such networks and whether they are involved in contested political matters.

Communications with the public on these issues, including social media.
The review is expected to be completed by March 2024. Braverman has said that she will leave no stone unturned in ensuring that policing acts for the benefit of the British public.
This review is part of a series of measures announced by the Home Secretary to ensure that the police are acting on the British people's priorities. These measures also include reforming Home Office Counting Rules for crime to reduce back-office paperwork, rolling out nationally Right Care, Right Person so police are not attending as many mental health callouts, and recruiting 20,000 additional police officers through the Police Uplift Programme.
The review of police activism and impartiality is a significant development and is likely to have a major impact on the way the police operate in the UK.
Photo Credit: iStock