In the last 12 months, we've been exploring cloud transformation across the public sector. We've travelled the UK interviewing the technologists driving change to understand the viability of the cloud-first policy and its subsequent challenges.
A topic that came up time and time again was the disparity and confusion in the definition of cloud and the perception of the policy. When interviewing for our documentary series, Consciously Hybrid, cloud was used interchangeably by many technologists and organisations. The National Institute of Standards and Technology (NIST) defines 'cloud computing' as 'a model for enabling ubiquitous, convenient, on-demand network access to a shared pool of configurable computing resources (e.g., networks, servers, storage, applications, and services) that can be rapidly provisioned and released with minimal management effort or service provider interaction.'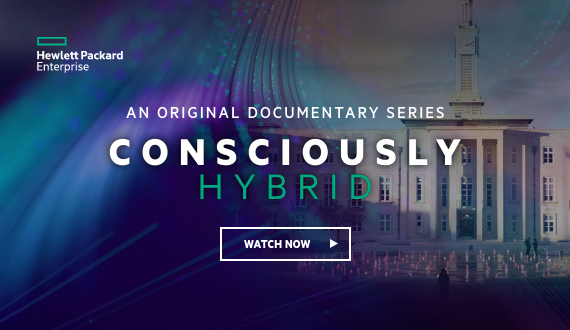 NIST defines 'public cloud' as one of four deployment models alongside community cloud, hybrid cloud, private cloud, yet the cloud-first policy explicitly states 'public cloud' only. This not only actively excludes NIST's other definitions of Cloud Computing, but also contributes to significant confusion in the term itself.
The distinction between public cloud, hyperscale cloud, hybrid cloud, private cloud has, in some cases, led to organisations finding themselves caught in-between strategies, platforms, operating models and funding paths.
The cloud first policy arguably, reframed the meaning of 'cloud' from a technology choice for individual departments to a matter of pan-government policy. Cloud should be considered an experience, or a way to consume technology. A technology strategy should therefore still be based on the fundamentals of putting the right workloads, in the right place, for the right reason. This could be on-premises, private cloud, the edge, multi-cloud and/or the public cloud.
Cloud Computing is an evolution of IT in general. New generations of compute and storage are advancing that provide NIST Cloud Computing capabilities and align with Cloud Native Computing Foundation trail map.
The focus should shift to 'how' workloads are modernised in terms of cloud-native design, as opposed to just considering 'where' workloads are migrated. In the last decade, the answer to 'where' has been public cloud. This shift in thinking is critical to deliver on the digital government agenda moving forwards.
With this in mind, we sat down technologists across the sector to understand their perception of 'cloud' and the resulting approach to transformation.
Bryan Nelson, Lead Transformation Manager for Hybrid Cloud Services at Department for Work and Pensions (DWP) Digital shared how the department was keen and enthusiastic to align its digital transformation strategy with the cloud-first policy. However, the reality of doing so with the ever-increasing needs of service users, on such a large scale, is no mean feat. A 'lift-and-shift' approach wasn't the right avenue for DWP. System-critical services and a wealth of confidential datasets were bound to on-premises legacy technology – moving it to the cloud simply wasn't feasible or logical.
Taking a consciously hybrid approach
To move to a more modern operating model, Bryan took, what we call, a consciously hybrid approach to the DWP's digital transformation strategy.
"We chose the hybrid approach which allows us to operate a public cloud and a private cloud experience from our on-premises servers. By actively subscribing to this methodology and incorporating it into our strategy, we benefit from increased data portability and efficiency where our on-premises and cloud systems can work together in unison providing the best solutions for both our internal and external customers. Using the hybrid approach, we believe that with seamless orchestration across multiple cloud vendors and on-premises infrastructure, we are much better prepared in the event a hyperscaler goes down. We have built-in this resilience and control to our strategy."
The future is hybrid
Nelson cites the benefits of a hybrid approach as the key facilitator for transformation and a strategy that will underpin DWP Digital moving forward.
"For me, hybrid isn't a hosting decision, it's much deeper than that. It's the whole ecosystem that sits around it because it's how you build applications and services, how you make them resilient. It changes the way of working dramatically by adopting a consistent way of delivering services. That's what hybrid means to me. It's about aligning on a set of engineering principles, architectural principles and digital transformation objectives."
View the full interview with Bryan Nelson.
All too often technologists consider cloud adoption as predefined, yes or no option – either full scale public cloud adoption or not. This has been perpetuated by the cloud-first policy, driving the use of public cloud specifically. Despite paving the public cloud path, the policy offers little guidance in how to get there, how to deal with legacy workloads, edge cases and sensitive data. All of which our research suggests is not, and may never be, suitable for public cloud environments.
This steadfast public cloud narrative has reinforced biases that public cloud is 'good', leading people to believe that everything else is 'bad' or the 'old way of doing things'.
The lack of ubiquitous definition of cloud contributes to this. Public cloud is only one instantiation of modern cloud native technology and other options are available. A consciously hybrid approach recognises the value that each of those options brings in a pragmatic and strategic way.
We believe it is time to consider a more conscious path to cloud transformation – to be open to the opportunities and options that 'cloud' and a hybrid approach offers.
We continue to explore cloud transformation and sharing the varying strategies and approaches public sector technologists are taking. If you'd like to participate or share your views, reach out or join the conversation with #ConsciouslyHybrid.
Find out more about how we're driving conscious change and clarity with the public sector.