The Department for Science, Innovation and Technology has announced that the number of people looking to begin a new career in cyber has broken records.
As part of the government's Upskill in Cyber Programme, more than 3,600 people have submitted applications to upskill digitally, with more than half of the applications have come from women. There has also been a development in the talent pool outside of the capital, with more than half of the applications coming from people based outside of London and the South East.
The programme is focusing on people who don't come from a cyber background and comes in the latest of a series of projects that are coming through the government's National Cyber Strategy, worth £2.6 billion. The National Cyber Strategy is part of wider plans from the Department for Science, Innovation and Technology to 'build a thriving tech workforce and secure the resilience of the future digital economy.' Alongside this, the strategy will look to support the Prime Minister's plans to deliver better jobs and grow the economy.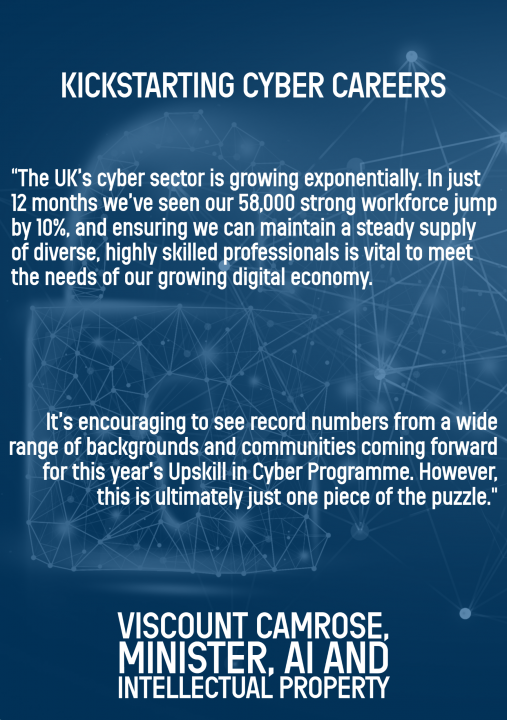 Viscount Camrose, Minister for AI and Intellectual Property, said:
"The UK's cyber sector is growing exponentially. In just 12 months we've seen our 58,000 strong workforce jump by 10%, and ensuring we can maintain a steady supply of diverse, highly skilled professionals is vital to meet the needs of our growing digital economy.
"It's encouraging to see record numbers from a wide range of backgrounds and communities coming forward for this year's Upskill in Cyber Programme. However, this is ultimately just one piece of the puzzle.
"We must continue our wok with industry and education to improve tech skills across the economy, and we are continuing to invest in the potential of our brightest minds at all levels to unlock opportunity for people right across the country."
Under 25's is being encouraged to consider a career in cyber through the government back Cyber Explorers and Cyber First, however Upskill in Cyber is looking to give further opportunities to those that are already in the workforce. This will be done through the provision of 14-week training programmes that will give people the skills to take on new careers in the cyber sector.
One of the driving forces behind the push to improve cyber skills and offer new roles to those who wish to take them comes from huge demand for skills in the cyber sector. Following the cyber security skills in the UK labour market report last year, it was found that 51% of businesses have a basic cyber skills gap. In order to meet growing demand, the ambitions of the government to become a science and technology superpower are being acted on to ensure that future generations have improved cyber skills from an early age.
NCSC Deputy Director for Cyber Growth, Chris Ensor, said:
"Cyber security is an exciting and rapidly growing industry with opportunities in a wide range of areas. To meet this, we must build a sustainable – and crucially diverse – pipeline of talent.
"Collaboration across the industry will be key to filling to skills gap, including through initiatives like CyberFirst. We want to empower tomorrow's cyber experts with the tools they need to keep the UK secure and resilient online."
Image credit: iStock