Manchester City Council has announced that it is set to approve the final funding for a landmark £60m energy efficiency and decent homes programme.
Through the Energy Efficiency and Decent Homes programme, the council plans to improve the health of residents, reduce the cost of running homes in Manchester, and achieve net zero by 2038. This will see more than 2,100 homes in the city receiving energy efficiency works, alongside wider home upgrades. Housing is a major source of carbon emissions, so investing in energy efficiency measures is a key part of the council's strategy to reduce its emissions.
The programme will help to improve the health of residents through ensuring that homes are well-insulated and energy efficient helping to reduce respiratory problems and other health issues. More efficient homes also allow residents to save money on energy bills.
Manchester City Council is working with a number of partners to deliver the programme, including energy suppliers, contractors, and residents. The £60m energy efficiency and decent homes programme is expected to be completed by March 2025 and will bring a number of benefits to Manchester, including:
Reduced carbon emissions: The programme will help the city to reduce its carbon emissions by making homes more energy efficient.

Improved health: Homes that are well-insulated and energy efficient are warmer in winter and cooler in summer, which can help to reduce respiratory problems and other health issues.

Reduced energy bills: Residents who have their homes upgraded will save money on their energy bills.

Improved comfort: Homes that are more energy efficient are more comfortable to live in.

Increased property value: Homes that have been upgraded are more likely to increase in value.
Executive member for housing and development, Cllr Gavin White, said:
"Housing is a major source of carbon usage and therefore investing in energy efficiency measures is a key element of our journey to become a zero carbon city by 2038. This £60 million represents the biggest investment in low carbon retrofit works in our history and is testament to our commitment to reducing our collective carbon emissions.
"The challenge is significant but one we need to tackle head on. We have around 70,000 social rented homes in the city – 16,000 owed by the council – and we have committed to retrofitting 60% of those that we own by 2032.
"We also need residents to come on this journey with us. These works will require us to work directly with council tenants and private owners – and although inevitably there will be some short-term disruption, the end product is warm, healthier, more efficient – and ultimately cheaper to run – homes for our residents."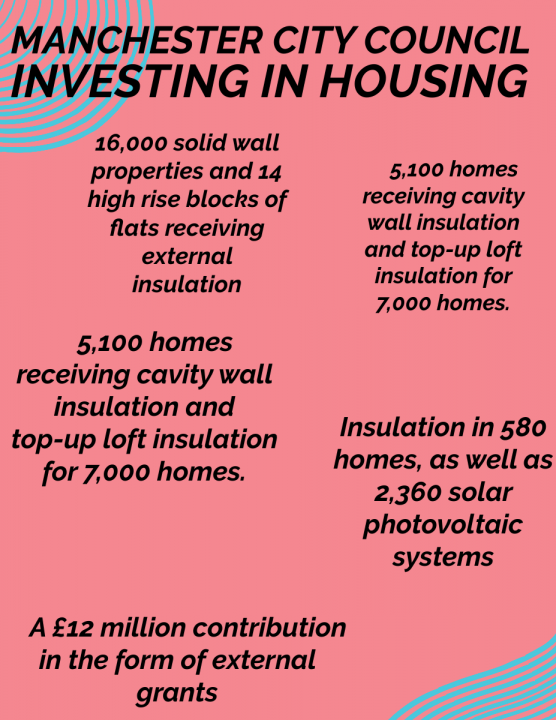 So far, the council has already made significant progress and investment in retrofitting properties. This includes £83 million worth of investment in energy efficiency improvements to council homes in North Manchester since 2005, which has delivered a 49% reduction in carbon emissions in those properties. Residents have also been able to access energy advice since 2013, which has seen an estimated £370,000 saved alongside a saving of 500 tonnes of CO2.
The council's current investment in its own stock includes:
16,000 solid wall properties and 14 high rise blocks of flats receiving external insulation.

5,100 homes receiving cavity wall insulation and top-up loft insulation for 7,000 homes.

Heat pump insulation in 580 homes, as well as 2,360 solar photovoltaic systems.

A £12 million contribution in the form of external grants.
The £60m energy efficiency and decent homes programme is a landmark investment that will help Manchester to become a more sustainable and healthier city. The programme will benefit residents, the environment, and the economy.
Councillor Tracey Rawlins, executive member for environment and transport, added:
"This is an incredibly ambitious investment by the council helping to retrofit homes in the city that are in the most part dominated by pre-war and mid-century properties, many with lower standards of insulation and poor energy performance ratings.
"Retrofitting older housing is an emerging field that requires a broad range of works and is currently very expensive. We would urge for more national funding to be made available to support Councils to invest in our homes and support our journey to zero carbon.
"However, there is also opportunity here. A broad range of skills are required with significant opportunities for work in the coming years to meet the retrofit agenda. In the last year alone, 500 people across Greater Manchester had gained the skills to meet the retrofit challenge and we would encourage people to find out how they can get involved."