The Ministry of Justice has announced that it is launching a pilot programme that will see offenders helping to give back to the communities that they have offended against.
In order to combat anti-social behaviour in communities, offenders will be called upon to respond swiftly and clean up egregious instances of fly tipping, vandalism and littering as part of rapid deployment teams. These teams will consist of offenders that are serving Community Payback sentences and will be easily identifiable with hi-vis jackets, as they respond to cases around the country within 48 hours of cases being reported to the Probation Service.
Over the course of six months, 20,000 hours of work will be carried out to ensure that offenders are paying for their crimes, as well as giving back to communities that they may have harmed.
Alex Chalk, KC MP, Lord Chancellor and Secretary of State for Justice, said:
"Anti-social behaviour is a blight on our society and can leave proud neighbourhoods feeling neglected.
"These rapid deployment teams will mean eyesores are dealt with swiftly to restore community pride and ensure convicts are made to give back to the communities they have offended against."
With more than 50,000 Unpaid Work requirements being handed out by courts and offences such as theft, criminal damage and alcohol-related instances carrying such a punishment, there will be a relaunch of the Community Payback website next year. This will make it easier for members of the public to report instances of anti-social behaviour, as well as nominating potential projects for cleanup in their neighbourhoods. Alongside this, a new government reporting tool will allow the public to report anti-social behaviour quickly and easily, as it is taking place.
The government is investing up to £93 million into Community Payback, seeing offenders completing millions of hors of unpaid work every year, helping to improve the environment and give towns and cities a new lease of life. This year also marks the 50th anniversary of the first Community Payback project, with Nottingham Crown Court handing down the first unpaid work placement in January 1973.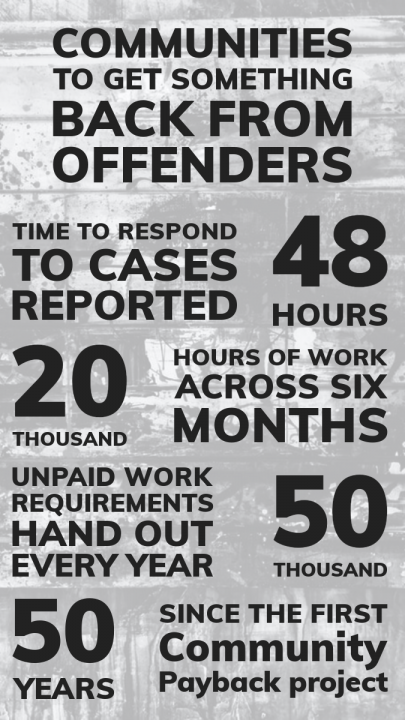 Image credit: iStock