The Care Leavers Bursary was established thanks to the devolved control that the authority has over its adult education budget, helping to support care leavers as they look for opportunities at colleges and training centres. Per year, care leavers are provided with up to £1,200, with this increasing to £1,500 in 2023/24. Through further support, those benefitting from the bursary are also helped with independent living and financial literacy, additional career guidance, and transport, by way of a free bicycle for those who complete a cycling proficiency test.
Local partners and Cambridgeshire County Council's Leaving Care Service worked alongside the combined authority to also provide support that will ensure that care leavers are able to experience stability, feel safe and secure, and have improved access to health and emotional support.
Coming at the end of Care Leavers Week, the celebrations saw the combined authority promoting a 'success story,' following local resident AJ. The support helped AJ to live in her own council accommodation and focus on her studies after difficulties in her personal life, then going on to work as a nursery practitioner.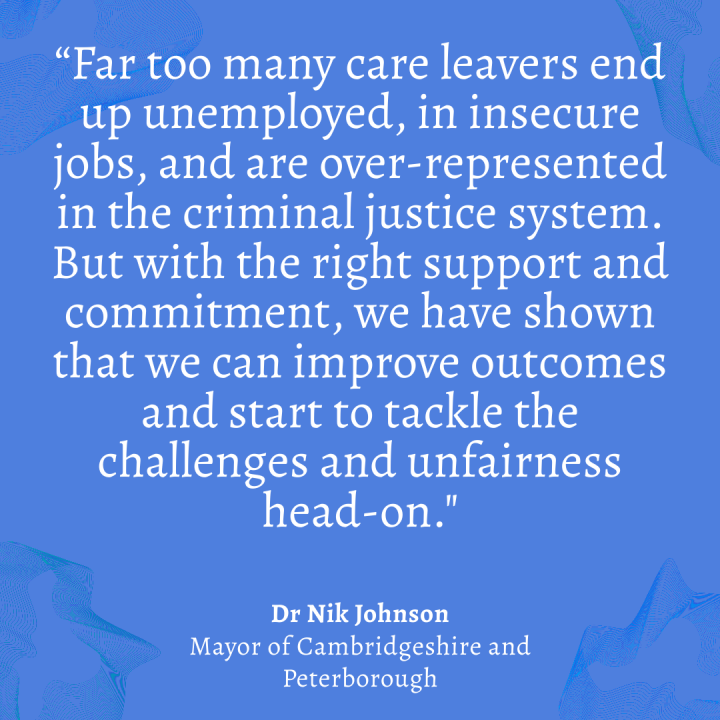 Dr Nik Johnson, Mayor of Cambridgeshire and Peterborough, said:
"Far too many care leavers end up unemployed, in insecure jobs, and are over-represented in the criminal justice system. But with the right support and commitment, we have shown that we can improve outcomes and start to tackle the challenges and unfairness head-on.
"The bursary and other support offered to help care leavers live independently has helped people like AJ release more of their potential and help them get on in life."
The combined authority has outlined how growth has been positive, but it is continuing to work on further improving the outcomes for care leavers, with 54% of care leavers in Cambridgeshire and 53% in Peterborough progressing into education, employment or training in 2022.
Having signed up to become a care leaver friendly employer, guaranteeing interviews for care leavers when they meet the minimum criteria, Cambridgeshire and Peterborough Combined Authority is a signatory to the Care Leavers Covenant.
Image credit: iStock