The Government has reiterated its commitment to opening another civil service hub in the West Midlands, as the Deputy Prime Minister met with Mayor Andy Street.
Despite the location of the hub not yet being finalised, the Birmingham Hub 3 has been confirmed as going ahead, with hopes being that the hub will become a specialist office. This would see the building housing up to 4,000 officials from the Department for Transport and National Highways, with 27 UK government organisations already being based out of the city.
A suitable city centre location is being searched for, with the government aiming to open the site between 2027 and 2028.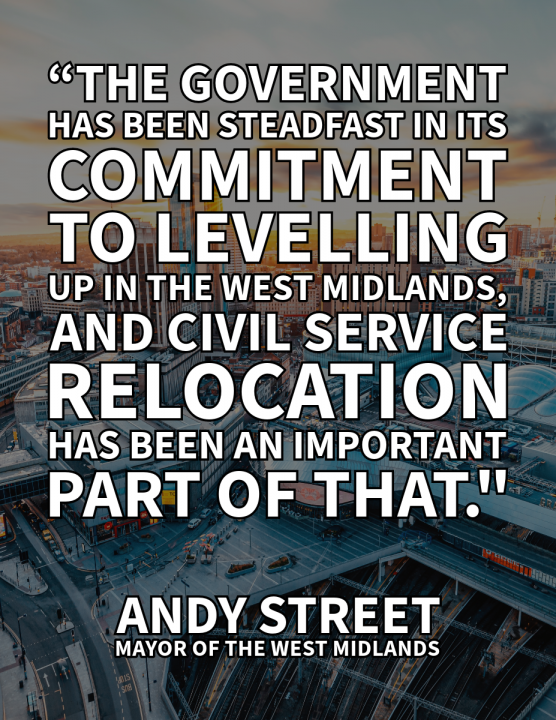 Andy Street, Mayor of the West Midlands, said:
"The government has been steadfast in its commitment to Levelling Up in the West Midlands, and civil service relocation has been an important part of that.
"I am therefore delighted that the Deputy Prime Minister has confirmed plans for the Birmingham 3 Hub are alive and well. As you would expect, new working patterns have led to the government rethinking exactly what office space it would need in the region, but the critical point is that this relocation will happen as planned and we will reap the benefits.
"I want to thank Oliver for his ongoing commitment to the West Midlands, and we will continue our work together to bring more civil service roles to the region – as well as ensuring local people have the right skills to win these jobs."
Since 2018, a total of 1,902 civil service roles have been moved to the West Midlands, with Birmingham, Coventry and Wolverhampton all playing host. This includes Wolverhampton becoming the second home of the Department for Levelling Up, Housing and Communities.
Deputy Prime Minister Olive Dowden also commented:
"More than 32,000 UK civil servants work in the West Midlands, including some of the most senior grades. We need a civil service which represents the people it serves and make its decisions in their communities.
"That's why I'm working with the Mayor to ensure that we find a location for a new Government Hub in Birmingham, housing thousands of civil servants delivering for the people of the West Midlands and boosting local businesses."
The project to relocate civil servants has included many areas of the country as part of the Places for Growth programme. Established in 2018, the programme was aiming to move tens of thousands of civil service roles out of London by 2030, whilst supporting the decentralisation of government functions. Progress sees the plans already over half the way to meeting its target, with 14,000 roles already moved so far.
To hear more on Levelling Up, from leaders and key figures within the UK public sector, register for Public Sector Executive's Levelling Up virtual event here.
Image credit: iStock