We currently live in an age where the advancement of digital technology is rapidly evolving. Technology is developed to help us, make our lives easier, streamline processes, improve the level of services we provide etc. Despite all of this, UK police forces often find themselves stuck in a pattern of using their IT equipment on seven-year cycles, or until it breaks. Here we discuss why it is important to adopt technology and keep your IT technology up to date.
The first question to answer is, why don't police forces upgrade their technology more often?
Well, there isn't necessarily one single answer to this question. Budget constraints play a big part, and digital technology can often seem out of financial reach for many forces. However, there is probably also an element of 'if it's not broke, why fix it?' which creates a reluctance to change.
We all tend to be creatures of habit, and often you get comfortable with the equipment you're using. Upgrading is seen to be a monumental task that'll require immense planning, preparation, training and also budget. Factor in the fear of failure – no one wants to be the one who suggests upgrading systems will bring loads of benefits when the current systems are working fine for it all to go wrong when the new technology is implemented.
However, although some of these are valid points, we would argue the benefits of adopting digital technology, far outweigh the negatives. Below we list five reasons that highlight the benefits and the importance of adopting digital technology.
INCREASED PRODUCTIVITY
The opportunities that digital technology offers to improve productivity are endless.
Firstly, digital technology has helped speed up processes by streamlining manual processes and transforming them into digital processes. Furthermore, automation has helped significantly in this department. Within the police force, robotic process automation (RPA) programmes work on automating repetitive tasks, such as vetting information. This can free up police officers and staff to focus on the more high-value elements of their work.
There are other tools available that can help to improve communication speeds. This could be something as simple as faster internet or 5G technology, but can also include collaboration software such as Office 365 from Microsoft. Finally, newer IT hardware will also be able to run more efficiently and quicker – saving you from waiting for applications or the hardware to start up.
BETTER SERVE THE PUBLIC
The way in which crime is conducted has changed a lot in recent years. An estimated 90% of reported crime today contains a digital element. The aim for UK police forces should be to at least match the level of digital adoption if they are to better protect the communities they serve. Police forces can take inspiration from the private sector here.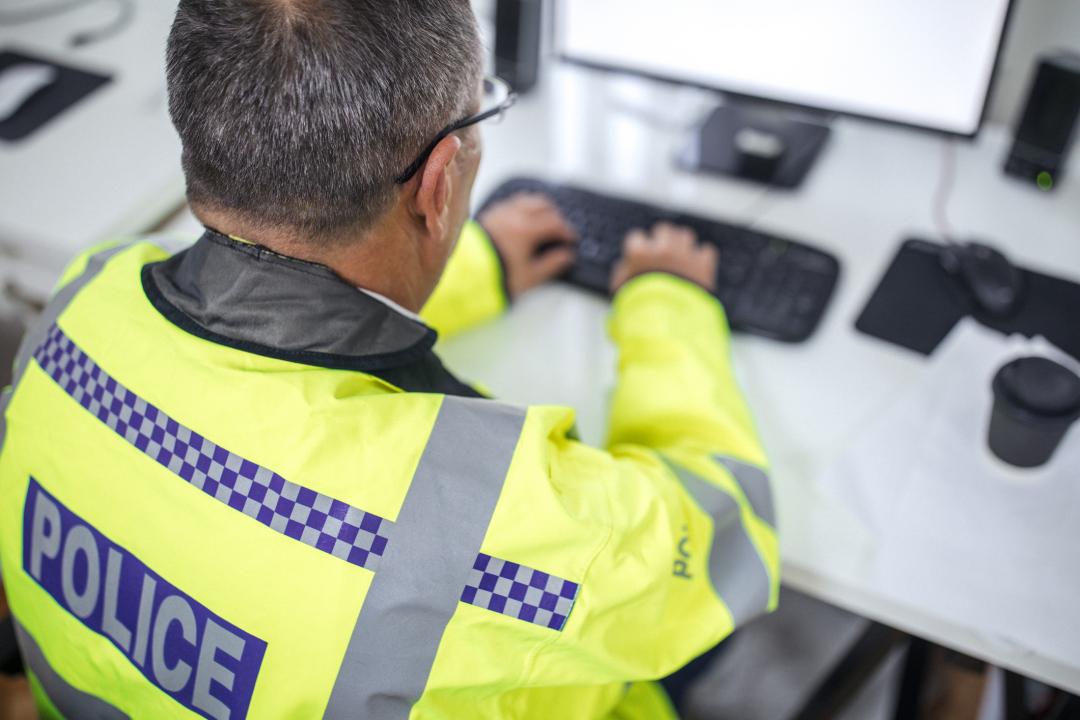 Private sector enterprises will use digital technology to maximise the time their workforce spend on delivering core services and meeting customer needs. The services of consumer business have been transformed by predictive analytics, automation, big data, AI, mobile technology, cloud technology, Internet of Things (IoT) and remote access to core systems. Police forces can apply digital technologies to gain the same benefits as private sector organisations - use their resources more intelligently, enable their workforce to be more efficient and effective, deliver a faster and more targeted response.
COST SAVINGS
As mentioned earlier, investing in the latest IT hardware or digital technology can appear expensive. However, in many cases, newer technology actually leads to a lower total cost over the lifetime of the assets. By improving your productivity and efficiency, you are going to save money in the long run, as this will help to protect and achieve your long-term goals. Moreover, it can cost 10 – 15% more, per year, just for maintenance alone to maintain legacy and old technology.
DIGITAL SECURITY
As with any new technology, it can be exploited if in the wrong hands. Criminals are using digital technology to undertake more threatening cyber-attacks, for example. However, there can be no doubt that older technology is more susceptible to these security risks. This is because older software doesn't receive the same level of attention from developers as newer software will. This means the older software will be more at risk of hacks and bugs as there will be fewer patch fixes and updates to counteract the risks.
Regarding hardware, there is also now more sophisticated data deletion services that can provide peace of mind after you've replaced the assets. With more focus on the environment and sustainability, a lot of old IT equipment is sold for use on the secondary market. Therefore, it is important to make sure you use a certified provider to delete any potentially sensitive data that might be on the devices before they are sold.
INFORMATION STORAGE
Digital technology has made it a lot easier to store massive amounts of information and data in relatively small spaces. Large amounts of data can now be stored on mobile phones, but for larger swaths of data, there are now cloud solutions that can store significant amounts of information, all of which can be accessed by any device which has internet access. Additionally, the cost of storing these data has dramatically changed. For example, in 1967, storing one gigabyte of data would have cost £800,000 – today it costs less than £0.016!
If your police force is looking to take advantage of the benefits that digital technology can offer, please contact CHG-MERIDIAN today.
If you'd like to find out more, feel free to download our full report on how police forces can maximise their IT budget here. At CHG-MERIDIAN, we ensure that you are always at the forefront of the technological revolution with affordable solutions tailored to your needs.