Last night saw the Local Government Information Unit celebrating the crucial work that local councillors do in communities in England and Wales, at the 2023 Cllr Awards.
With the ceremony taking place at the Guildhall in London, awards were handed out to councillors from a range of local authorities. Including Surrey County Council, Swale Borough Council and Canterbury City Council. More than 300 nominations were submitted across five categories, with work celebrated across the board.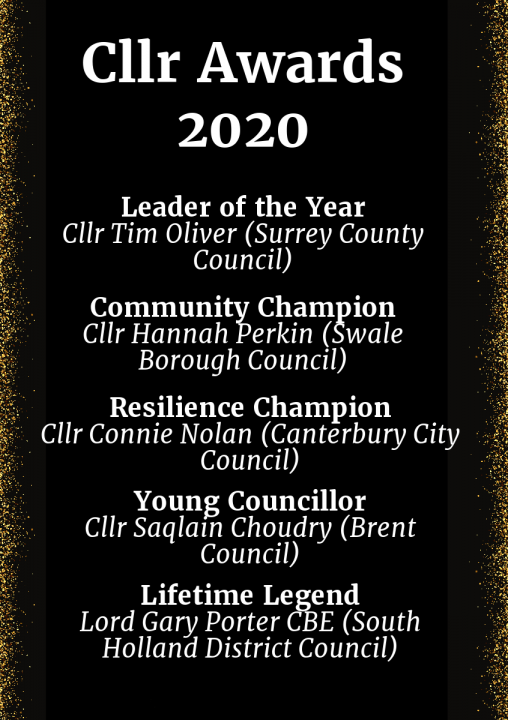 Surrey County Council's Cllr Tim Oliver was awarded the main prize of the evening, Leader of the Year, with the other winners being:
Cllr Hannah Perkin, Swale Borough Council – Community Champion

Cllr Connie Nolan, Canterbury City Council – Resilience Champion

Cllr Saqlain Choudry, Brent Council – Young Councillor

Lord Gary Porter CBE, South Holland District Council – Lifetime Legend
Councillor Safiya Saeed from Sheffield City Council and North Somerset Council's Cllr John Crockford-Hawley were also both awarded a special mention in the Community Champion and Lifetime Legend awards respectively.
Chief Executive of the Local Government Information Unit, Jonathan Carr-West, said:
"In the face of unprecedented domestic and global challenges over the last year, councillors nationwide have once again exhibited unwavering dedication to serving their constituents. Tonight's winners show the remarkable contributions local councillors make to their communities and we at LGIU are dedicated to celebrating the achievements that genuinely improve the lives of local residents.
"As councils continue to deliver essential services like social care and housing amid a cost of living crisis, these awards are a hugely important way to champion what councillors do locally. I extend heartfelt congratulations to all the Cllr Awards winners this evening. We applaud you for your dedication."
The judging panel for the awards was comprised of senior councillors and sector stakeholders, and the ceremony presents the only opportunity for individual councillors to be celebrated nationally.
Image credit: iStock