North Yorkshire Council has announced that it is implementing ambitious plans, as it looks to tackle some of the biggest challenges in the region whilst also bringing about economic growth.
Through the draft economic growth strategy, the council is looking to establish itself in the leading role in proposals to create a carbon negative economic, maximise investment, and improve the quality of life for residents and businesses. This five-year strategy will support businesses to grow by building on pre-existing sectors and increasing productivity and innovation.
Alongside this, the council will look to give town centres the tools that they need to thrive, with this including transport, housing, digital and energy infrastructure investments. Residents are also targeted for supported, as the council looks to ensure that they have the skills needed to meet the ambitious targets set out.
Councillor Derek Bastiman, Executive member for open to business, said:
"Our economic growth strategy is a key milestone for the council, marking an exciting new phase for our economy. We are set to take the lead on tackling some of the big economic challenges of our time and seek to maximise investment from the private sector, government, and funding agencies/
"This strategy comes at a critical time for North Yorkshire, and one of the most exciting in its recent history. Having recently successfully completed the move to a single unitary, we have a once in a generation opportunity to embed a new approach to supporting economic growth in North Yorkshire.
"North Yorkshire is a unique and special place. Its scale and industries make it integral to the North of England's economic future, and its landscapes, culture and history make it a fantastic place to live, work and do business."
A devolution deal has also been secured between North Yorkshire and York councils, and the government, that will see the creation of a new York and North Yorkshire Combined Authority. This is predicted to drive even more investment and regeneration in the area.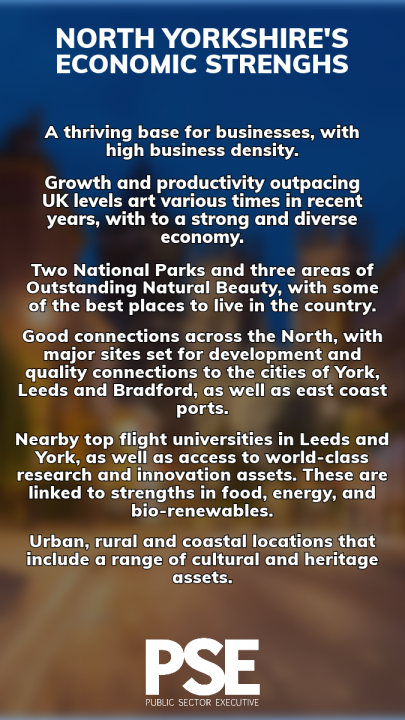 Some of the important economic strengths in North Yorkshire include:
A thriving base for businesses, with high business density

Growth and productivity outpacing UK levels at various times in recent years, with to a strong and diverse economy.

Skipton and Harrogate being voted among the best places to live in the country, accompanied by two National Parks and three areas of Outstanding Natural Beauty.

Good connections in the North, with major sites set for development and good connections to the cities of York, Leeds and Bradford, as well as east coast ports.

Nearby top flight universities in Leeds and York, as well as access to world-class research and innovation assets. These are linked to strengths in food, energy, and bio-renewables.

Urban, rural and coastal locations that include a range of cultural and heritage assets.
The county is already home to a wide range of local specialisms, with these covering financial and professional services, advanced manufacturing, logistics, digital and life sciences, alongside a renowned visitor economy that generates more then £1.5 billion per year in itself.
To hear more on Levelling Up, from leaders and key figures within the UK public sector, register for Public Sector Executive's Levelling Up virtual event here.
Image credit: iStock