The Department for Science, Innovation and Technology, has announced that the government will be committing funding to help with the future proofing of artificial intelligence skills.
Funding worth £118 million has been allocated to boost skills in AI, with this helping to secure the UK's place at the pinnacle of global expertise, as well as helping to utilise further efficiency and productivity in a number of sectors. Included in this boost is the announcement that a further 12 Centres for Doctoral Training in AI will be named, as well as benefitting from £117 million worth of funding from UK Research and Innovation. This will also be complimented by a new visa scheme to make it simpler for innovative businesses to bring talented AI researchers into the country.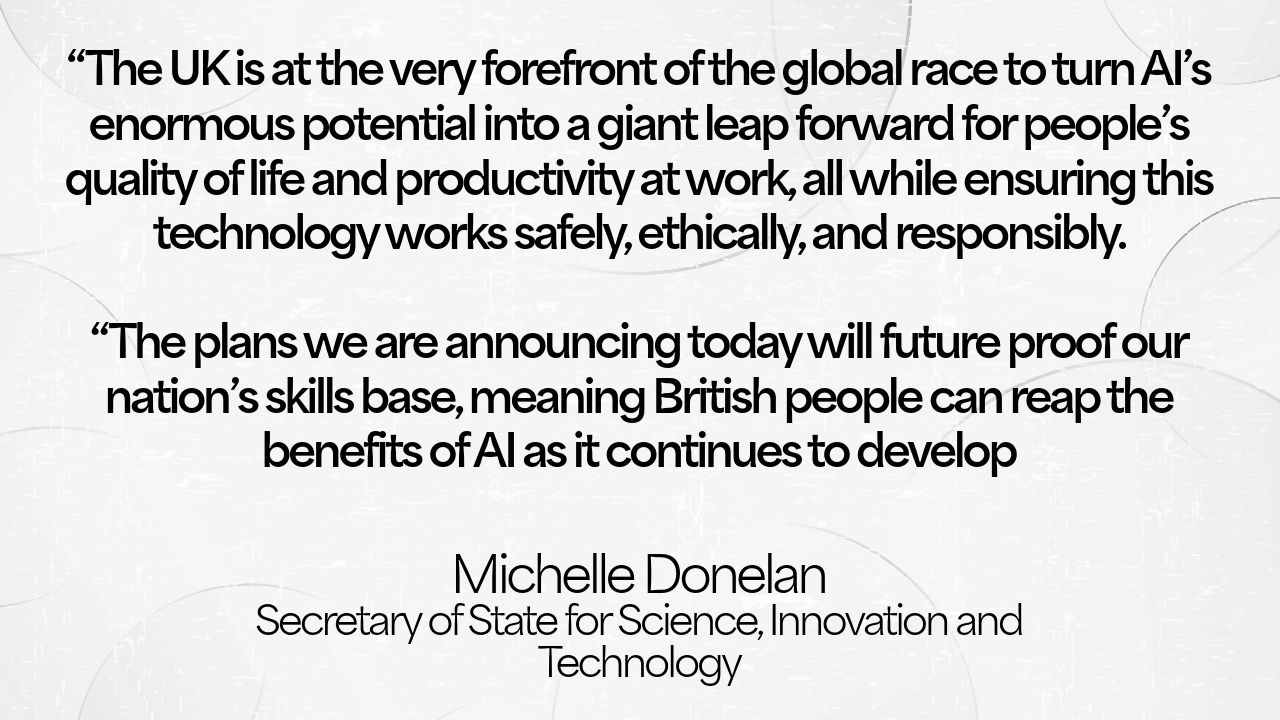 Michelle Donelan, Secretary of State for Science, Innovation and Technology, said:
"The UK is at the very forefront of the global race to turn AI's enormous potential into a giant leap forward for people's quality of life and productivity at work, all while ensuring this technology works safely, ethically, and responsibly.
"The plans we are announcing today will future proof our nation's skills base, meaning British people can reap the benefits of AI as it continues to develop. At the same time, we are moving further and faster to put the power of this technology to work for good across government and society."
Other initiatives that have been announced include funding to support science and technology scholarships at the UK's leading universities, a grant scheme worth £1 million that will help attract the top AI talent from around the world, and a pilot for a new STEM Olympiad scholarship scheme called 'Backing Invisible Geniuses.
Some of the wider AI measures that the government are to announce this week will include:
Revealing the 64 NHS trusts that are to benefit from the rollout of £21m worth of AI technology that will improve how chest X-ray and CT scans help to diagnose serious conditions such as lung cancer.

Piloting 'A-cubed,' which is an AI tool that will assist work coaches to support those seeking work in 'Jobcentres for the Future.'

The allocation of up to £2 million so that Oak National Academy can test new AI uses in education, with a view to reducing the time that teachers spend on planning.

A new Met Office partnership with the Alan Turing Institute, with AI being used to improve weather forecasting. This can help to boost the nation's resilience to extreme weather events that have the ability to threaten both lives, and critical infrastructure.

Launching the 'Airlock' regulator sandbox that will help AI innovators to test their new technologies safely and earlier in healthcare. This will have the added benefit of NHS patients being able to benefit from game-changing health innovations earlier.

Launching a set of internationally recognised standards for AI use in health, so that the technology works for everybody.
Chief Executive of UKRI, Professor Dame Ottoline Leyser, added:
"The UK is in a strong position to harness the power of AI to transform many aspects of our lives for the better. Crucial to this endeavour is nurturing the talented people and teams we need to apply AI to a broad spectrum of challenges, from health aging to sustainable agriculture, ensuring its responsible and trustworthy adoption. UKRI is investing £117 million in Centres for Doctoral Training to develop the talented researchers and innovators we need for success."
Image credit: iStock